Hotel Room Cooking
by the Hotel Room Cooking Academician
Send e-mail to hotelroomcookingacademician@nordicgroup.xx (change xx to us)
Hotel room cooking is safe, fun, economical, and saves time as well as money. Eating at restaurants every night can get old pretty fast, especially in areas without good restaurants.
Last Update: 22 April 2013
Note: This site is purely informational. I don't sell any of the products on this web site. The links are to retailers of the products.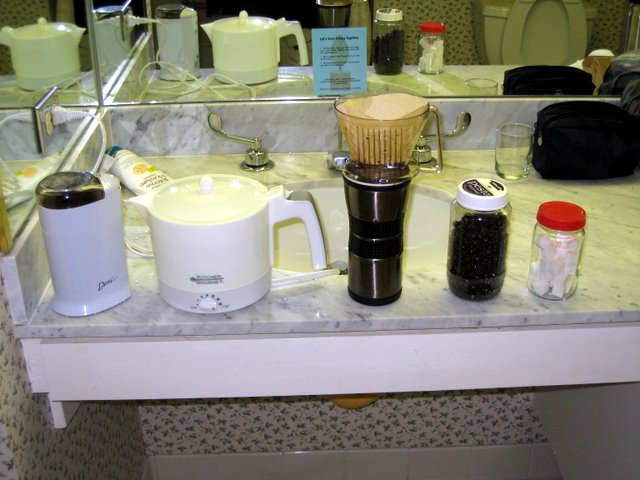 Making Coffee at the Grand Sierra Hotel in Reno
Grinder, Hot Pot, Travel Mug with Coffee Cone, Jar of Coffee Beans, Jar of Sugar Cubes
Not only did we save money on meals, but this four star hotel always has great deals on rooms--we've paid as little as $21/night for a large room with two double beds. No one forces you to go down to the casino!
---
---
Hotel room cooking no longer has to consist of reheating left-over pizza on the hotel iron, and cooking oatmeal or steaming vegetables in the coffee maker. Savvy travelers now bring along their own small appliances to enable gourmet meal preparation in their hotel room.
What about rules against in-room cooking?
First, remember that this a difference between a rule and a law. Some hotels, especially those in national parks where restaurants are run by the same company that operates the hotel, explicitly forbid in-room cooking; they want you to eat in their restaurants. It's possible they could fine you or force you to leave if they caught you cooking, especially if you signed something at check-in (like the agreement you sign that if you smoke in a no-smoking room there will be a hefty penalty charge).
Hotel staff generally ignores in-room cooking as long as it is done discretely with appliances that do not pose a risk of fire any greater than the hotel coffee maker or iron. As long as the appliances do not have an open heating element, hotels are usually not concerned about their use. Deep frying, or any food preparation that uses a lot of oil is not a good idea, nor is the preparation of very smelly foods. Cook in the bathroom, with the door closed, well away from the smoke detector. Heating water is almost always okay, especially since most hotels and motels provide a coffee maker in the room. With boiling water you can prepare a lot of different foods from instant noodles to boil-in-bag meals.
It's best to clean and store your appliances before leaving your room in the morning. Don't make a mess and annoy the housekeeping staff. Bring some garbage bags with you and throw away food wrappings and garbage, and dump the bag in a garbage can outside your room. Be discrete and considerate.
Personally, I've never had a problem. YMMV.
While higher-end hotels rarely have any cooking facilities in the room (other than perhaps a coffee maker), most lower-priced chain motels now have at least a coffee maker, microwave and a refrigerator in the room. I recently stayed at a pretty crappy Days Inn in San Diego, but they had a full size refrigerator, a two burner stove top, a microwave, a coffee maker, and a dishwasher. I thought that the dishwasher was a bit strange for a motel room.
---
Voltage Converters to Operate 120V Appliances on 220/240V
This is an issue if you need to use appliances purchased in the U.S. in countries where the mains voltage is 220V. Someone e-mailed me about this asking about using the Takeru Travel Kitchen/Rice Cooker HL-901A in a 220V country.
Most of the appliances mentioned on this site are 120V only, though a few are dual voltage. To use 120V appliances in places with 220V electricity a high wattage travel converter can be used. These converters are for appliances that are purely resistive (no motors, no electronics, no clocks, no timers, no digital temperature controls, etc). These converters do not have a step-down transformer inside which is why they are so small, light, and inexpensive. They will not harm the purely resistive element inside a cooking appliance. Buy a 2000 watt model which is far more than most appliances use, because you want a lot of margin. Converters can get very hot depending on the wattage of the appliance used with it, and the manufacturers always warn that these are not designed for continuous use because excess power is bled off as heat by the triacs.
These adapters work like a light dimmer, they chop off the sine wave to reduce the RMS (root mean square) voltage. A pure sine wave has an RMS voltage of 1.414 * peak voltage (110V RMS is around 156V peak). A converter chops the 220V sine wave such that the RMS voltage (the area under the waveform) is around 100V. RMS voltage is all that matters to a resistive heating element (and to an incandescent light bulb). Note that all the excess power is converted to heat which is dissipated by the triacs inside the converter. This is a significant amount of heat. Some non-resistive 120V devices will be damaged by the high peak voltage and the non-sinusoidal waveform. About $20.
There's an article at http://kakopa.com/PSA220-110/index.html which I will summarize. The author analyzed the Radio Shack converter model 273-1404.
220VAC
Input
"Chopped" 110V Output From Converter
True 110VAC
RMS
220V
95V
110V
Peak
311V
265V
156V
So the converter only reduces the peak voltage slightly (from 311V to 265V), but it reduces the RMS voltage from 220V to 95V, which is close enough to the 110V RMS from a normal 110VAC outlet.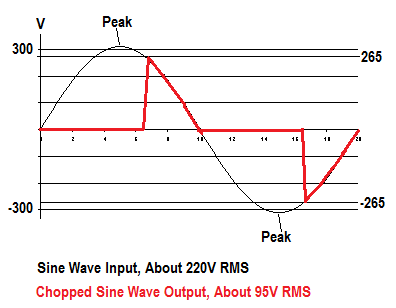 Actually, AC motors will usually function with one of these converters, but both the non-sinusoidal wave form, and higher peak voltage, will shorten the life of motors and transformers.
Be careful what you buy as there are subtle differences in products. You can buy a 220V to 110V voltage converter with plug adapter that does not have the ability to function solely as a plug adapter with dual voltage appliances (Powerbright TK2000). You can buy the similar looking (other than the color) 220V to 110V voltage converter with plug adapter that does have the ability to function solely as a plug adapter with dual voltage appliances (Conair Travelsmart TS253AD). You can buy a plug adapter only, which does not do voltage conversion.
Nearly all electronic devices come with dual voltage adapters (cameras, cell phones, camcorders, computers, etc.) so you'll really only need a voltage converter for things like cooking appliances.
Conair Travelsmart TS253AD 220 to 110V Voltage Converter/Plug Adapter, 2000 Watt
Note: This device can be used as a plug adapter with dual-voltage appliances because voltage conversion function can be switched off.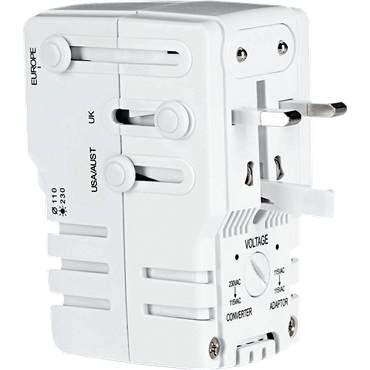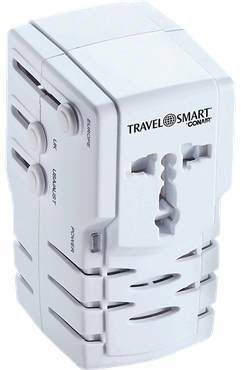 Conair Travelsmart TS253AD 220 to 110V Voltage Converter/Plug Adapter
The Conair Travel Smart TS253AD Adapter Converter Combo <http://www.amazon.com/dp/B002E7L7UO> does have a switch to allow it to be used as a plug adapter only, or as a plug adapter voltage converter. $19 from Amazon.
A more detailed description of the very similar Powerbright TK2000 can be found here, but this unit does not allow the voltage conversion function to be switched off and is not recommended. However the explanation of the conversion capabilities may be useful.
Plug Adapter Only (no voltage conversion)
Use these on dual voltage appliances that do not require voltage conversion, or to use single voltage appliances in countries with the same voltage but different plugs. Combine one of these with a triple tap to be able to plug in all your dual voltage devices, you don't need one for every device.
Deal Extreme 2296, $4.10

Be careful to not touch unused prongs when in use, or you'll get a nasty shock. Clearly this did not pass UL/CSA safety approval!
---
Temperature Control of Appliances with no Temperature Control Device
The two mini-cookers and one of the good kettles have no adjustability of temperature which is a problem if you want to simmer or "keep warm."
For purely resistive loads like a light bulb or heating element you can use a triac controlled light dimmer of an appropriate wattage to vary the heat. These work on the same principal as the 220/240V to 110/120V converters. Double the rated wattage of the appliance when choosing a dimmer. For example for a 450W appliance get at least a 900W dimmer. If you set the dimmer control to half power then the appliance dissipates half the power and the triac and heat sink on the dimmer dissipates the other half. The dimmers that control household lamps are not high power enough to handle a cooking appliance.
Unfortunately, I have never seen a commercially available dimmer that is rated for both 110/120V and 220/240V, even though practically speaking the circuit inside should handle both. However you can buy an inexpensive PC board module that is rated for both but you'd need to build it into an appropriate enclosure. Search on eBay for "2000W SCR 220V."
The English is bad in the product description:
SKU: 14_B000114008967

Description:

With reverse polarity protection, high current protection
High temperature FR-4 circuit board
Maximum Power: 2000W
Voltage: AC 110-220V
Voltage Regulation: AC 50-220V
Size(Lx W): Approx.46 x 35mm

How to use:

This product series with the lamp or electrical circuit, table lamps, appliances disconnect any FireWire or zero line (ie a "product" two wires connected to both) rotary potentiometer spin rod, you can play light and shade adjustment, speed, pressure, the role of the thermostat; use very convenient. This product is applicable to: the use of new two-way high-power thyristor can be very convenient to adjust the mains current up to 25 A, and solve the the overcurrent problem of the heating wire resistance is too small in the case of cooling causing good; the output voltage is adjusted anywhere between 90 ---- 220 volts for use with electrical appliances. Such as: electric stove, water heater tune thermal, lighting dimmer, small motor speed, electric iron thermostat. So as to achieve dimming, thermostats, pressure regulator effect. Large appliances available, power consumption is less than 2,000 watts of power has sufficient home appliances or small factories. (Inductive or capacitive load power should be reduced, the regulator is equipped with two-way high-power thyristor, potentiometers are with nuts, do not have to add any components will be able to use, very convenient and practical).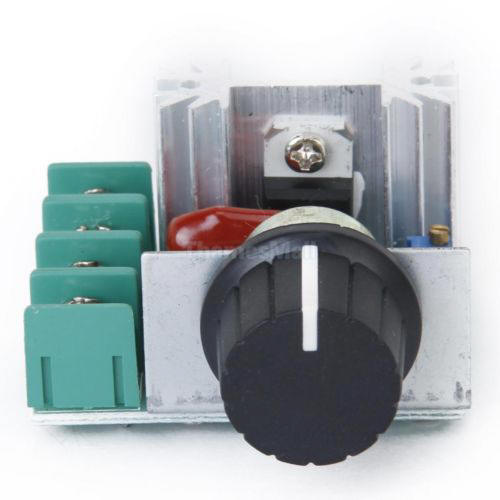 2000W Dimmer Rated for 110-240VAC
---
Like most frequent travelers, I would often find a need to heat up leftovers from a restaurant meal, or would want to not eat every meal in a restaurant. While most travelers have figured out how to use hotel room appliances like irons and coffee makers to heat food, it's rather inconvenient to use these devices for unintended purposes. I've seen travelers with full size crock pots and rice cookers at the hotel check-in desk, but I feel that it's best to be discrete when planning to turn your hotel room into a kitchen. I've even seen someone with a full size rice cooker walking into the Mount Rose ski area, planning to cook lunch for their kids using the power outlets in the lodge.
Walgreen's used to offer a line of very inexpensive small-sized appliances under the "Kitchen Gourmet" brand. Alas, now the brand has changed to "Maxi-Matic" and the prices have increased considerably, even though most of the appliances are exactly the same as before. Look for a sale.
Beware that most of these appliances are not dual voltage. 120V appliances have a heating element with a much lower resistance than a 220V appliance. Operating a 120V appliance with a heating element at 240V would result in about 4x the wattage. If the heating element is not designed to tolerate the higher wattage then it would quickly burn up. However operating a 240V heating appliance at 120V will usually work, it would just take far longer to cook anything (this assumes that the appliance has no electronics, just a resistive heating element).
---
A rice cooker can be used as a hot pot or a steamer, as well as to cook rice quickly. $25. Use real white rice, not instant rice. 120V only.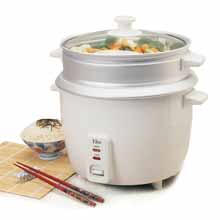 Walgreen's Maximatic 3 Cup Rice Cooker
---
Livart L-001N 1 Cup Rice Cooker
A good replacement for the discontinued Wah-Luen/Takeru Travel Kitchen/Rice Cooker HL-901A. No information on size or power. Sold online by Livart. I have not seen this in any stores. Makes enough rice for one person. $29. http://www.shoplivart.com/l-001n.html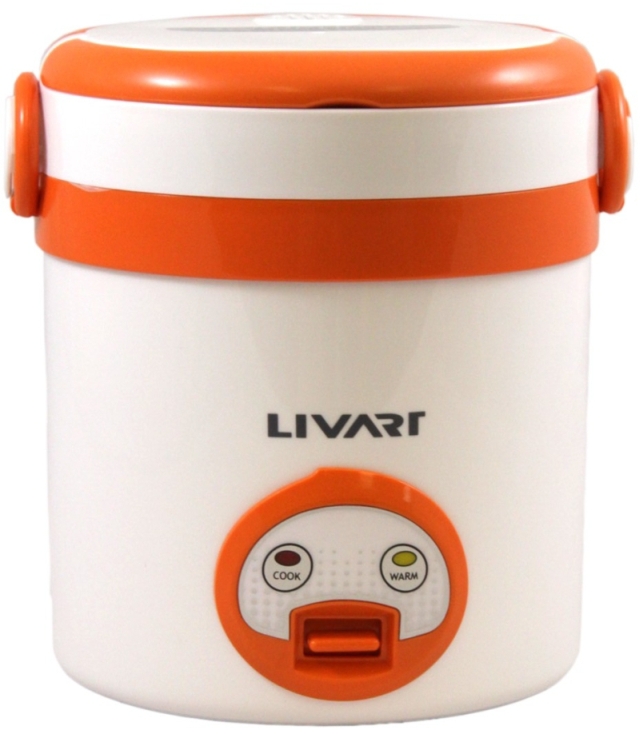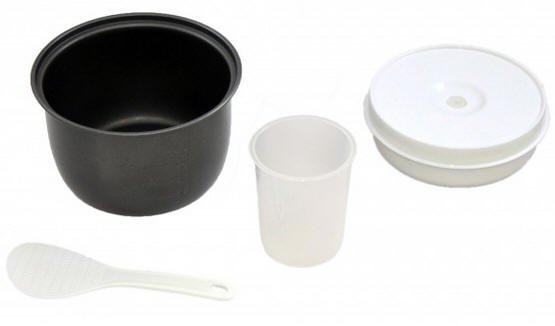 ---
Wah-Luen/Takeru Travel Kitchen/Rice Cooker HL-901A Apparently No Longer Available
"If you find something you really, really like, buy a lifetime supply; because it'll either be changed for the worse or go out of production." Rivendell
This mini-rice cooker flew off the shelves at the local Japanese market. They could not keep them in stock. They kept raising the price too. Eventually the manufacturer had to respond to the high demand for the product by discontinuing it.
I saw this tiny rice cooker at my local Japanese supermarket, Marukai. It costs $30 (often on sale for $27). It's a combination rice cooker and meal warmer for one person. It's marketed to office workers that want to cook fresh rice and warm meat and vegetables at work. It's rated at 250 watts at 120 volts. The manufacturer's web site is quite confusing, showing only 220V models, but this is a 120V only model*. The height is about 7" and the diameter is about 6". Remember, rice cookers are not the same as hot pots. It takes about 20 minutes to make rice. The pot is very small, and holds only enough food for one person. The capacity (on the box and web site) is listed at 0.8 liters. The capacity is smaller that it looks from the outside.
I finally bought one of these in December 2012 for my daughter to take to her college dorm room where she is on the 5 day meal plan and needs to cook or eat out on weekends. Since she's half-Asian she needs her rice. The heating element is about 60Ω, which means that at 120V this unit draws about 2 amps, and is about 240 watts.
It is also available on line for $30 plus shipping. See http://www.marukaiestore.com/p-713-pacific-world-trading-travel-kitchen-rice-cooker-takerukun-120-volts.aspx.
I should warn you that I find the physical Marukai store an incredibly rude and annoying store to shop at. If an electric appliance doesn't work you are out of luck as there are no returns or exchanges. My extended family buys a lot of Asian kitchen appliances and we try to avoid Marukai even though it's the closest store to us that carries a wide selection of rice cookers, water boilers, and multi-cookers. We have willingly paid more for items to avoid this store, but in this case there are no other sources.The reviews of it on the Marukai web site are good, if you can trust them.
Good for air travel where you can't bring larger appliances, and much cheaper than the Sanyo RN-38NF Travel Cooker.
*This is a 120V only appliance. The manufacturer has many different versions of this appliance in different sizes and wattages, but this is the only model I've seen in the U.S.. What's interesting is that this model, HL-901A, is listed on the manufacturer's distributor's web site at 220V/250W. The box at Marukai for the same model is listed at 120V/250W/50Hz. Obviously 50Hz is not correct for U.S. use, but the frequency won't matter for a device that is just a resistive heating element (eastern Japan is 50Hz which is why they used 50Hz in the specs). They must have used a lower resistance heating element for the 120V model and just not bothered to change the model number. Do not use this appliance at 220V. The heating element will draw 220V/60Ω=3.7A and will generate 806 watts which will likely destroy it. You can use it with a voltage converter.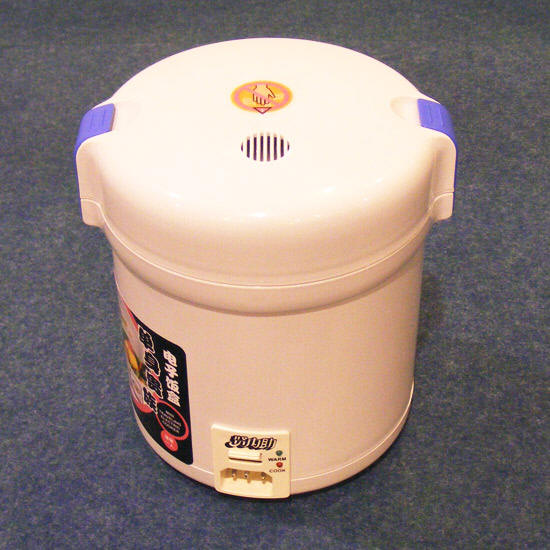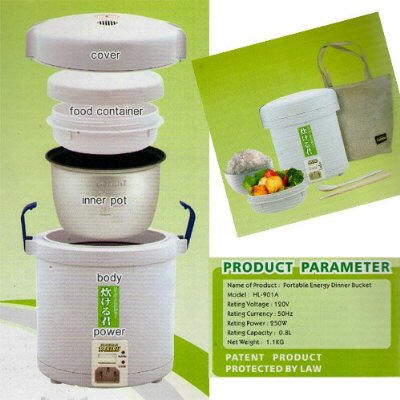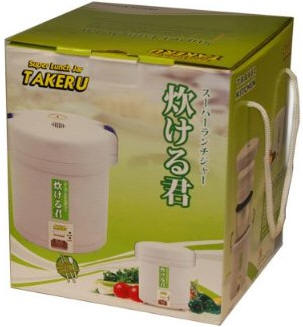 Travel Kitchen
See the 220/240V version at http://www.ecvv.com/product/1784878.html.
---
Perfect for heating water for instant noodles, or for steaming vegetables. $25 at Walgreen's. 32 ounces. Sold at Amazon for $15 http://www.amazon.com/Maxi-Matic-EHP-001-Cuisine-32-Ounce-Electric/dp/B002DUCC8S. You can also use this as a double boiler when combined with a steel cup as shown. The current model includes a steamer rack and an egg boiler. Automatic shut-off. One of the few hot pots with a temperature control (just as with an electric stove, the heating element is cycled on and off to achieve a lower average temperature). One issue is that the interior is plastic. I prefer a hot pot with a stainless steel interior.
The cup in the photo is similar to a Sierra cup used for camping, but this one is all steel with no cool-touch rim. They sell them at Daiso stores for $1.50 (not sold in their on-line store). They are called "boiling cups" and the photo on the package shows it being used in the same way I'm using it below (no the boiling water isn't ice). 120V only. Tends to rust on the inside and needs to be cleaned with steel wool.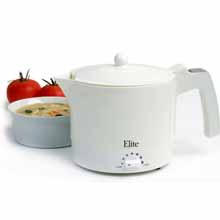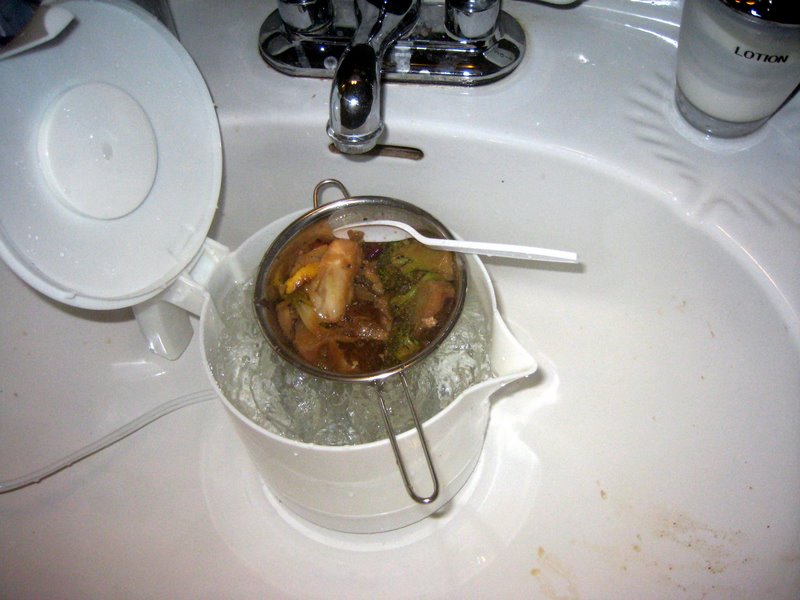 Walgreen's Maximatic 32 ounce Electric Hot Pot
---
Narita NTK-007
1000W Dual Voltage 120V/240V 0.7L. Sold in Asian markets. About $23. Online at

http://www.amazon.com/Narita-International-Electric-Voltage-NTK-007/dp/B0030HO5KQ. One of the few dual-voltage hot pots available. Not a coffee percolator. Stainless steel so no plastic taste. Automatic shut-off. No temperature control. Shuts off as soon as water boils so if you want to boil water for several minutes (for purifying water in foreign countries) then you have to hold in the "Reset" button on the handle. I got one on sale from 99 Ranch in Cupertino ROC, for $20.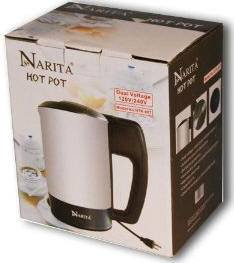 ---
It takes a long time to cook items with a crock pot, but if you can leave it going during the day you can come back to a meal that is ready to eat. $8-15.The problem with a crock pot is that you'd have to leave in on when you leave your room, and housekeeping might not like it, though a crock pot looks quite safe. 120V only. I have seen these on sale for $7.99 at Fry's Electronics. This is a small crock pot.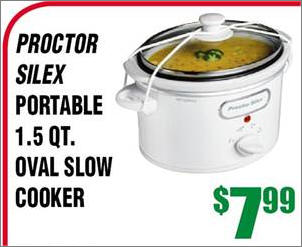 Proctor-Silex 1.5 Quart Slow Cooker
---
Some hotels don't have coffee makers. This is a convenient sized drip coffee maker to carry along to avoid those expensive trips to Starbucks. Coffee maker is $20. Grinders are $20. Beware that some blade grinders are of very poor construction quality. 120V only. Personally, I'd rather use a filter cone holder and filter, and heat water in a hot pot or with an immersion heater.
Surprisingly, the number of travel coffee makers has declined in the past few years. You can look for a used Melitta Travel Mate on eBay, or one of the old 12V/120V kits with a steel kettle (also on eBay). I've also seen the latter for sale at flea markets (a lot of them were sold new over the years). Personally, I think that it's very sad when I see things that I purchased new listed as "vintage" on eBay.
Remember, when it comes to coffee makers, manufacturers have re-defined "cup" to mean 4 to 5 ounces, not 8 ounces. So a "4 cup" coffee maker will actually brew only enough coffee for one 16 ounce travel mug.
---
Voltage Valet Quick Cafe II Dual Voltage Travel Coffee-Maker QC2
Small, self-contained, portable, dual-voltage, drip coffee maker with mug. $40. Makes one relatively small cup.120/240V. I can see using this in an airport to make coffee while waiting for a flight without freaking out anyone.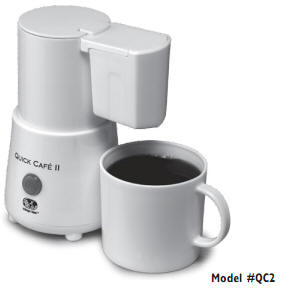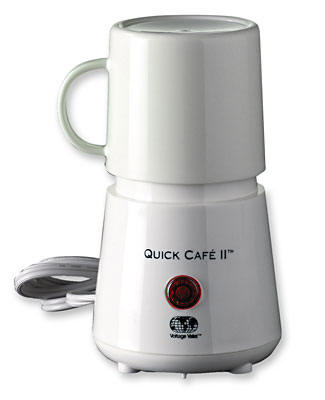 http://www.voltagevalet.com/prod_dvapp/QC2.html
---
Travel Percolators
Trav-L-Bar
This is the only new product I found in this category. Sold at Amazon for $100. These used to be popular in the 20th century, and I was surprised to find one still available. The nice thing about this is that it's all self-contained, put the coffee and the water in, plug it in, and wait. You can also boil water with it. Probably dual-voltage, but not sure.
No longer available at Amazon
.

http://www.amazon.com/Leather-Coffee-LCB-two-toned-burgundy/dp/B0002GWR9E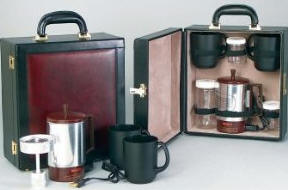 ---
Old Travel Percolators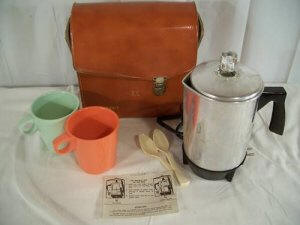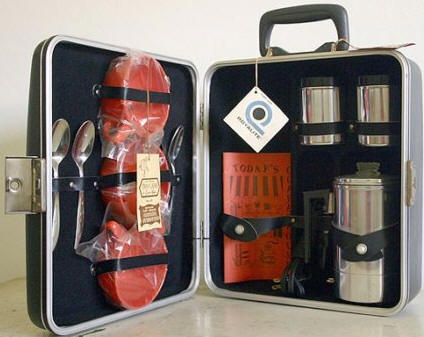 You might find a used one at a better price than the new one somewhere (try eBay).
---
Small Percolators
Maxi-Matic EHC-900 Elite Cuisine 4-Cup Percolator
Sold at Amazon for $13, and at some Asian markets.
http://www.amazon.com/Maxi-Matic-EHC-900-Elite-Cuisine-Percolator/dp/B0006A0GLW.
Very poor reviews.

---
Farberware FCP240
The classic Farberware percolater, now made in China of course. Mixed reviews.
http://www.amazon.com/dp/B00008ELEA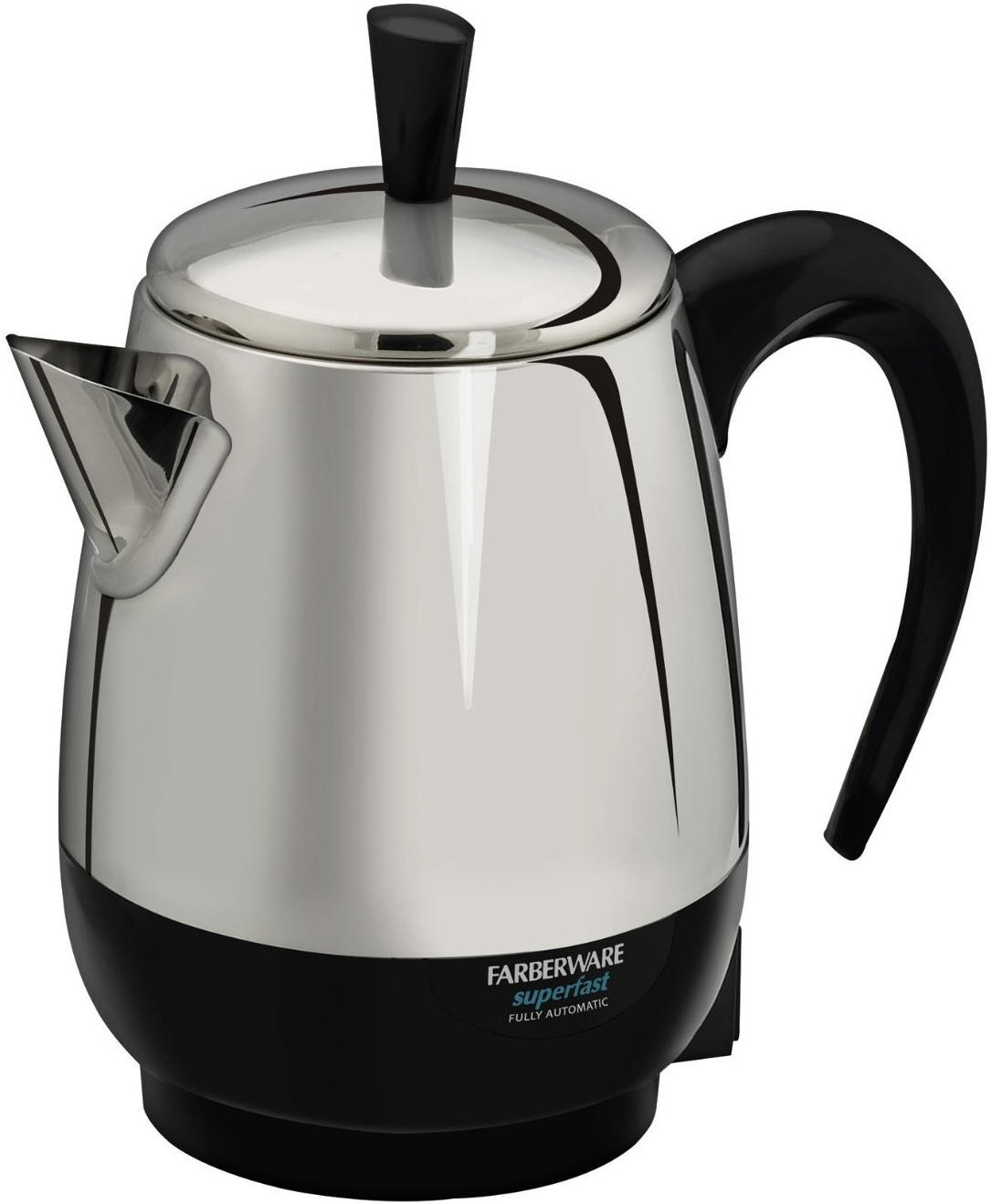 ---
12 Volt/120 Volt Coffee Maker & Hot Pot (Discontinued but Used Ones are Around)
No longer made, but a lot of them on the used market. I bought one many years ago from J.C. Whitney. Since it's just a resistive heating element inside you can run it off 12V or 120V, and it just takes far longer to boil water on 12V. The AC plug has a keying hole between the prongs, and the cigarette plug adapter has a pin sticking out that prevents AC plugs without the keyhole from plugging into the cigarette plug adapter. Sold under various brands including Travl-Perk, Nesco, Montgomery Ward, and Empire. Would work fine with a voltage adapter for use with 220/240V power. All over eBay, and often found at flea markets, and probably at garage sales. Seem to sell used for around $20.
MADE IN THE USA

Attached Dual Voltage (12 Volt DC / 120 Volt AC) Cord Set

Thermostatically Controlled

Perks Up to Six (4) Cups

Uses 165 watts at 12 volts DC (14 amps)

Universal Floor Bracket

Includes - two coffee cups, two spoons, measuring cup, two containers

Complete Care and Operating Instructions Included

When used on 120 volts AC percolation will start in about a minute and stop automatically

When used on 12 volts DC percolation may take as long as twenty minutes to start and will stop automatically in 25 to 40 minutes

Use in Travel Trailers, Campers, Autos, Trucks, Motels, Boats, Homes, Motor Homes, Etc.

Manufacturer's One Year Warranty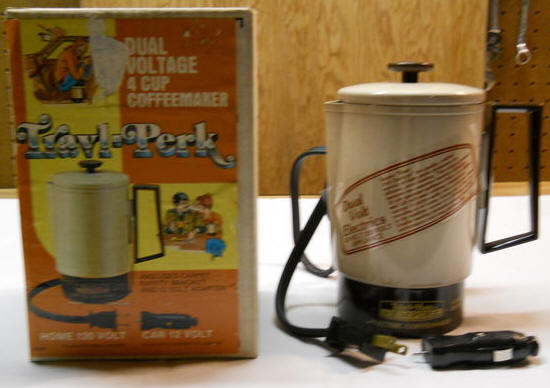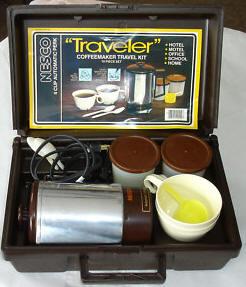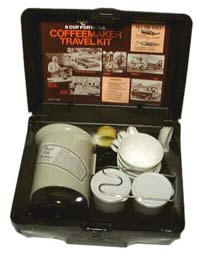 ---
Coffee Cone
For $1.50-3 you can buy a plastic coffee cone that accepts #2 or #4 cone filters. Boil water in a measuring cup with an immersion heater, or use a hot pot, and make wonderful coffee, directly into a double-wall stainless steel mug or bottle, without the hassle or expense of a coffee maker.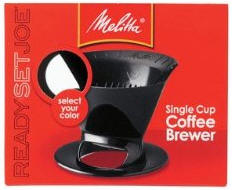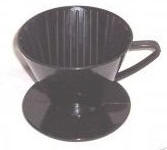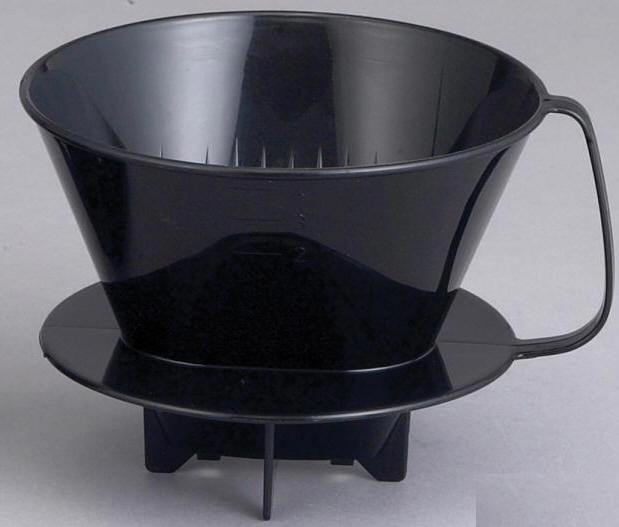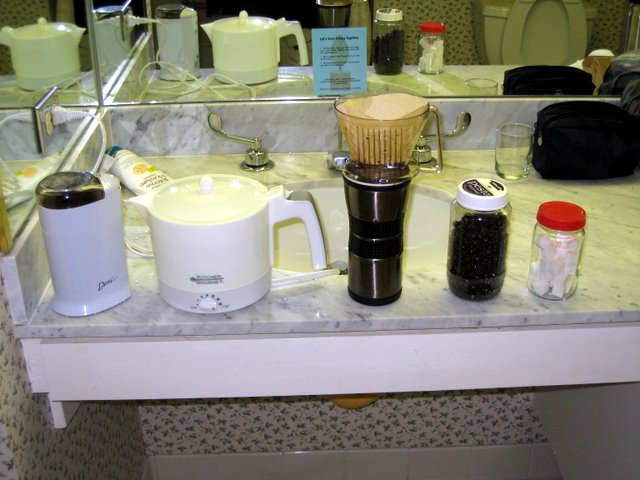 My Coffee Set-Up at a Hotel in Reno
---
These appliances are popular in Asia, where presumably they are used in small apartments with no full size cooking facilities. Several Japanese, Chinese, and Korean manufacturers offer 3 in 1 multi-cookers that allow you to grill, fry, griddle, steam, and slow cook; you can even pop popcorn, though since they are pretty low don't overfill it with kernels. These are good choices because one appliance has multiple uses and you don't need to bring along separate pots and pans. If you have an Asian supermarket with a small appliances section then you'll probably be able to find one of these cookers without ordering it on-line, but you may pay a premium. These are great appliances for hotel room use. With the pot in place the heating element is not exposed, even though this is really a glorified hot plate that comes with matched pots and pans.
These cookers are essentially a hot plate with included, matched, pots and pans, you can achieve the same result with a hot plate and collection of pots and pans, but these cookers are nice since everything nests together and the pots and pans are sized for the hot plate. You can put any pot you want on top of the heating element, you don't have to use just the pans that are supplied with the unit.
One annoyance with these cookers is that on some of them it's difficult to do something as simply as boil water for coffee because it's difficult to pick up the hot pan and pour the contents into a cup. Be sure to have a use potholder or towel for the ones that lack handles on the pot. You could also use a pot gripper but put several layers of heat shrinkable tubing over the exposed metal parts to avoid scratching the non-stick finish of the pot. You can also just use a small pot or a steel boiling cup to boil water on the heating element.
Sanyo HPS-MC3 3-in-1 Electric Multi-Cooker
About 15" diameter pot. Good for a meal for a family of 4-6. Has handles on the pot. Temperature control.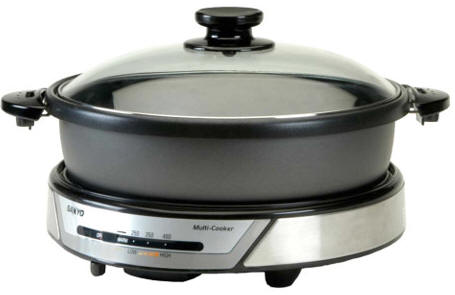 This has a street price of $70-100. 120V only.
---
Zojirushi EP-RAC50
About 12" diameter pot. Good for a meal for a family of 3-5. Has handles on the pot. Temperature control.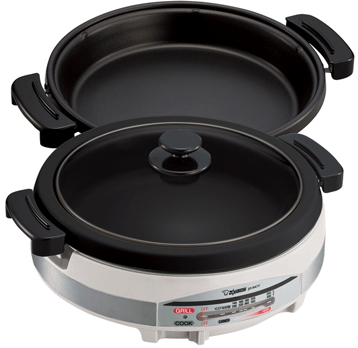 Similar to the Sanyo HPS-MC3 but smaller and nearly twice as expensive. 120V only. $149 at Amazon: http://www.amazon.com/dp/B001KVZZGC.
---
Tiger CPKD130
About 9" diameter pot. Good for a meal for a family of 2-3. No handles to lift pot, use potholders.Temperature control.
Power: 120 V
Electric Rating: 1300 Watts
Temperature Control: 80(Warm) -230(C) / 176-446(F)
Heater: Sheath Heater
Deep-Pan Depth: 2.4" (6 cm)
Deep-Pan Full Capacity (L): 3.4 liter
Net Weight: 8.8 lbs or 4.0 kg
Dimensions: 14-1/2"D x 13-1/4"W x 7-1/2"H
1-year Manufacturer's warranty

More expensive than the Sanyo HPS-MC3, but smaller. Get the Lg Livart LV301 instead if you are content with the lower wattage. 120V only. $112 from Amazon: http://www.amazon.com/dp/B000FERMNE.
---
LG Livart LV301
About 9" diameter pot. Good for a meal for a family of 2-3. A very good deal at $45. No handles to lift pot, use potholders. Temperature control.
Available only at Marukai, it's a small multi-cooker for only $45. See http://www.marukaiestore.com/p-4756-livart-9-inch-multi-pot-lv301.aspx. The LG Livart web site does not show this item. The Marukai physical store near me now carries these. I have not seen them at any other store or at any other web retailer. The low price and compact size makes this a good choice for cooking for one or two people, though for more people a bigger unit like the Sanyo HPS-MC3 would be better. It's just big enough for a pound of pasta and sauce, but barely.
Filled to the very top with water it holds 2 liters, practically speaking I'd say the capacity is 1.6 liters.
I should warn you that I find the physical Marukai store an incredibly rude and annoying store to shop at. If an electric appliance doesn't work you are out of luck as there are no returns or exchanges. My extended family buys a lot of Asian kitchen appliances and we try to avoid Marukai even though it's the closest store to us that carries a wide selection of rice cookers, water boilers, and multi-cookers. We have willingly paid more for items to avoid this store, but in this case there are no other sources.
If you want to store this in the original box be sure to note how it is packed when you open it. It is not obvious how to repack it. The perforated steamer nests inside deep cooker pot and sit on top of the heater base. The heater base nests in the roasting pan. Glass lid and fry rack go in last
120V only. 590 watts. This is pretty low wattage.
Since there is no information regarding this unit on the web I have scanned the manual, and it's available here.
The middle and right photos are from a Marukai advertisement http://www.marukai.com/osusume_march.html.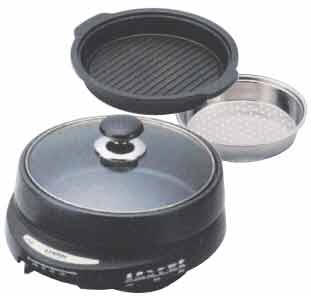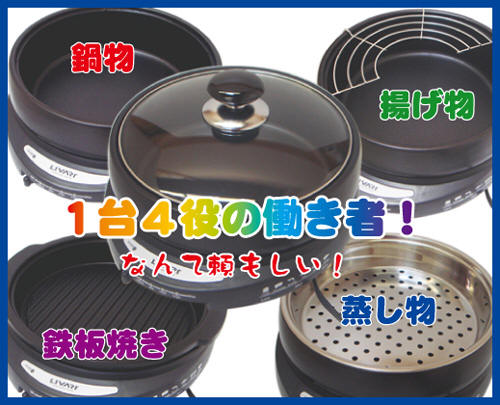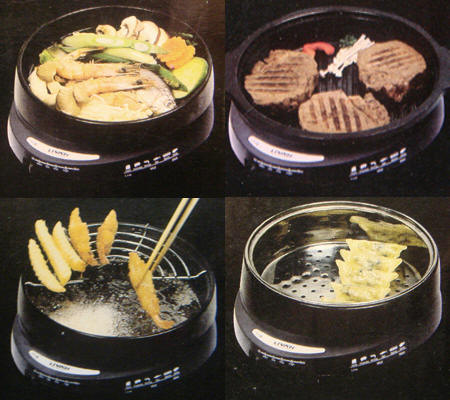 ---
Haemaru HMR-3000
I saw this at Marukai Japanese market in Cupertino. Not sold online. $65. Has steel handles for lifting, but you may need potholders. I do not own this unit. Not sure about the wattage at 120V since the only web site I found this on shows the 220V model; hopefully they changed the heating element to a lower resistance unit so the wattage is high enough at the lower voltage. Temperature control.
I should warn you that I find the physical Marukai store an incredibly rude and annoying store to shop at. If an electric appliance doesn't work you are out of luck as there are no returns or exchanges. My extended family buys a lot of Asian kitchen appliances and we try to avoid Marukai even though it's the closest store to us that carries a wide selection of rice cookers, water boilers, and multi-cookers. We have willingly paid more for items to avoid this store, but in this case there are no other sources.
"Haemaru HMR-3000] haemaru Domestic Genuine Twin Electric Cooker HMR-3000 / Roast Pan + casserole fan / temperature control / separation can be easy cleaning."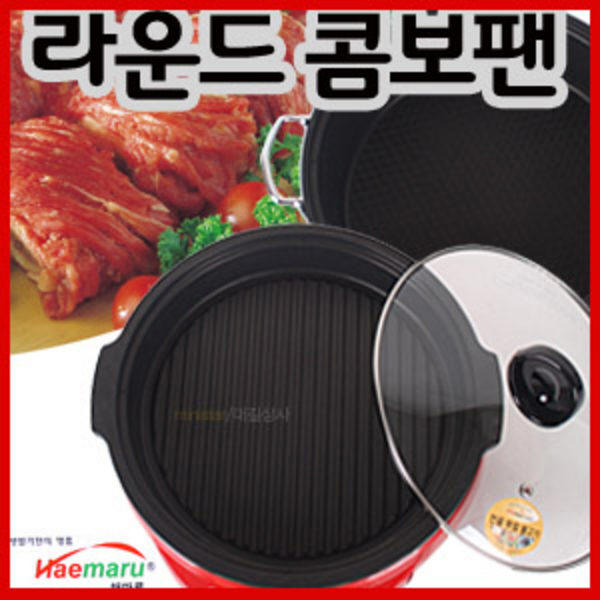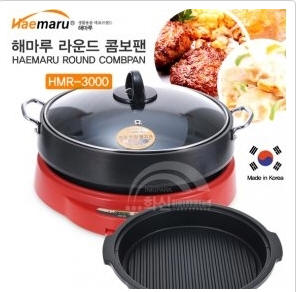 Try http://item.gmarket.co.kr/detailview/Item.asp?goodscode=283792768 but this site shows the 220V version for the Korean market. The 220V model is 1300 watts.
Looks very good, made in Korea where it sells for 47,500 Won (about $44).
---
Narita Electric Multipurpose Cooker -1300W (NEC-4000)
I saw this at Marina Foods in Cupertino for $39.99. Also sold on Amazon, http://www.amazon.com/dp/B002KUO018. Manufacturer's web site is at http://www.naritausa.com/product/NEC-4000.html. Much higher wattage than the the Livart LV301. Temperature control.
Electric Multi-Cooker Shabu Shabu hot pot. An electric multipurpose cooking convenience. 1300w output with high power range for quick immediate heating. Advanced coating for non-stick cooking. Sliding knob temperature control. Removable inner pot. Tempered glass lid. Voltage: 120v / 60Hz. Power Consumption: 1300W.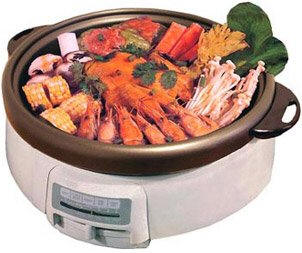 ---
A little large, but it can be used as either a skillet or a griddle. At low heat it could also double as a slow cooker. $70. 120V only.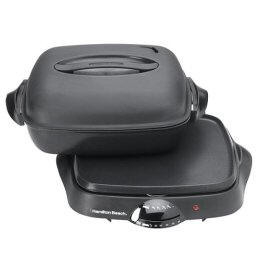 Hamilton Beach StepSavor Skillet/Griddle - 38500
---
Electric woks are good for stir frying. Also good for steaming (includes steaming rack). You could also use it for tasks as mundane as boiling water. $50. 120V only. 1500 watts.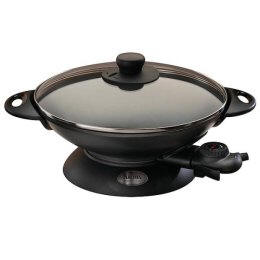 ---
Simple, small, and inexpensive, you can use this with any pot or pan. $20 or less. I suggest looking at non-stick camping cook-sets, because they pack small with nesting pots and pans (if you're in Korea they have some good camping cook sets at Costco). Store coil burners out of sight when leaving your hotel room, as they have the appearance of being dangerous. 120V only. Asian supermarkets are likely to sell these for under $15. These all have adjustable heat burners.
---
Induction burners use magnetic fields to transfer heat to special cookware. They will not work with non-magnetic cookware (aluminum or copper). They are safer than radiant heat burners because the surface doesn't get hot, only the pot or pan. 120V only. You can buy an "Induction Interface Disk" to enable the use of non-magnetic cookware, which kind of defeats the purpose because the disk gets hot. Do not use with a travel adapter that does not use a transformer.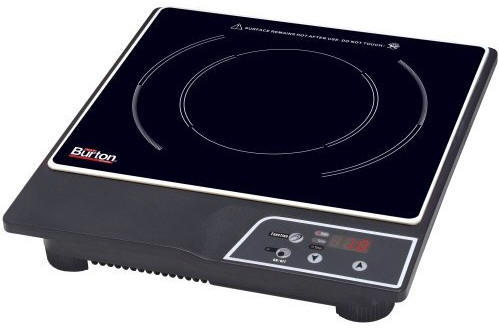 This burner costs $68 at Amazon. I've seen one model at Costco for around $50.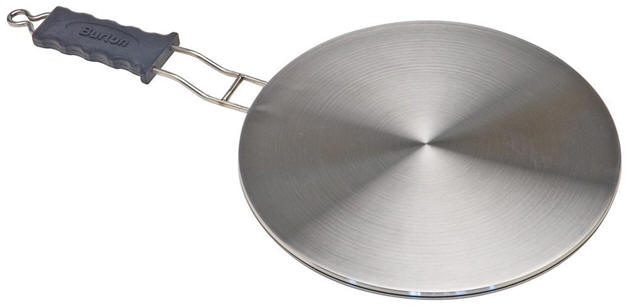 Induction interface disk allows the use of induction burners with non-magnetic pots and pans. Costs more than an induction burner!
---
Magic Chef MEK-1300S Electric Multi Mini Cooker 1.3L Compact Travel Cooker
Power: 110V-240V 450W (use switch on bottom). Or is it 350W?
Size: 190mm (h) x 125mm x 125mm
An alternative to the elusive (and probably discontinued) Sanyo Sanyo RN-38NF. Actually better since it is higher wattage. You can see more details at http://prod.danawa.com/info/?pcode=1866027 but it's all in Korean. I think it's this one http://superpower.appliances-china.com/Product_Look.php?ProID=297637 but the wattage is different. Not sure which is correct.
Sold in India as the Nova NRC-974TC.
Magic Chef MEK-1300S
---
Sanyo RN-38NF Travel Cooker Apparently no longer available.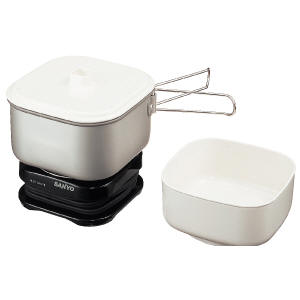 Sanyo RN-38NF Travel Cooker
This is a small hotplate with a matched 1.3 liter pot, and a bowl, that all nest together (the hotplate fits inside the pot). It runs off of 100-120 volts or 200-240 volts 50-66 Hz. Do an eBay search for "SANYO RN-38NF," I have seen them there for $79 plus $20 shipping, shipped from Hong Kong. No temperature control. They actually state the wattage difference at the all the different voltages.The specifications from the Sanyo web site (no longer there but archived here) are as follows:
Model No.

RN-38NF

Power Consumption

100, 200V: 250W/120, 240V: 360W

Power Source

100 - 120V / 200 - 240V AC, 50/60Hz

Capacity

1,300ml

Dimensions
(W) x (D) x (H) mm

Heater

128 x 61 x 128

Pot

155 x 76 x 155

Net Weight (kg)

0.88

Color

Metallic
Kind of expensive, but you pay for the compactness. Good for air travel where you can't bring larger appliances. I thought I'd be able to find this in the local Japanese stores that carry some of the Sanyo appliances not normally sold in the U.S., but I had no success. Very hard to find anywhere as they are extremely sought after and sell out quickly.
---
Aroma Hotplate
I'm not sure what the advantage is to a hot plate versus a coil burner. I guess it looks a little safer and more stable. 120V only. 800 watts. $16 at Amazon http://www.amazon.com/dp/B0007QCRNU.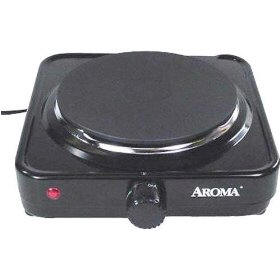 Aroma Hot Plate
---
Toaster Oven/Coffee Maker/Griddle
This combination appliance might be all you need to prepare meals for one person. About $30. 120V only. 1150 watts.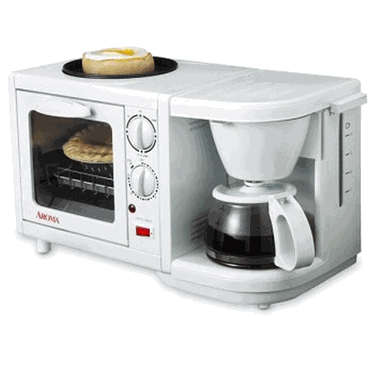 ---
For boiling water for ramen or other "just add boiling water" foods, nothing is smaller, simpler, cheaper, or faster than an immersion heater.
An immersion heater is like a nuclear fuel rod, it must be immersed in water when operating or it will melt. The heating element is encased in the metal coil (the containment vessel). Remember to fully immerse the coil in water before plugging it in, and to unplug it before removing it from the water. Don't let the water all boil away, and don't let the immersion heater fall out of the cup or pot. Inside the coil is a nichrome wire that will burn up in a few seconds if the device is operated outside of the water. Many users of immersion heaters get upset when they burn up, but they burn up because they are operated when not immersed in water. An immersion heater is extremely efficient--nearly 100% of the heat is transferred to the liquid. Household electric water heaters are essentially big tanks with a big immersion heater inside.
Use only for heating water. I've used one to heat cans of corn that are packed in water as well, but don't heat stuff like milk with it. A great thing to bring on overseas travel where you need to boil drinking water at the hotel. I've used a 120V model on 220V with no problems, it just heats much faster though it probably reduces the life of the heating element. They cost $5-6. Buy a couple of them as sometimes they burn out without warning. Even the $15 dual voltage version apparently doesn't have a 120V/220V switch, it just gets hotter on the higher voltage.
The Norpro 559 is the most common immersion heater available in the U.S. and is 300 watts. I wouldn't advise using it at 220V since it would produce 1200 watts and would likely self-destruct.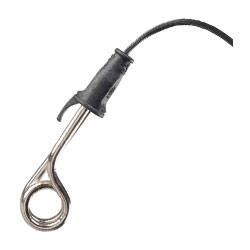 Voltage Valet Dual Voltage Immersion Heater
120V only version is available at many stores for about $5. Amazon sells it as well. See DoitBest and see if they have free store to store shipping for your area. The last time I checked, they charged $5.29 for this immersion heater.
For 220V/240V immersion heaters check stores that sell 220V/240V appliance for use outside the U.S., generally Indian or Chinese stores. I picked up a 500W/220V immersion heater for $5.99 at an Indian store in Sunnyvale, CA, http://www.eastwestusastore.com, but it isn't on their web site. This will also work at 120V, but it will be only 125W at 120V so it would take a long time to boil water (I tried it and it took 19 minutes to bring 8 ounces of water to a rolling boil).
There are a bunch of high-power 220V immersion heaters from the Ukraine that are sold on eBay, but the shipping is quite expensive. A 1500W model is $28 with shipping. A 2000W model is about $25 with shipping. Note that these will work fine at 120V, the wattage will just be reduced by about 75%.
There is one from Hong Kong on eBay (prices in Australian dollars, that's a good deal, see: http://www.ebay.com/itm/Traveling-2000W-220V-Electric-Element-Immersion-Heater-/190551104039.
Here is a table with some different 240V immersion heaters and how much heat they produce at 240V and 120V:
| | | | |
| --- | --- | --- | --- |
| Volts | Amps | Watts | Ohms |
| 120 | 1.0 | 125 | 115 |
| 240 | 2.1 | 500 | 115 |
| | | | |
| 120 | 3.1 | 375 | 38 |
| 240 | 6.3 | 1500 | 38 |
| | | | |
| 120 | 4.2 | 500 | 29 |
| 240 | 8.3 | 2000 | 29 |
Immersion Heater Volts, Amps, Watts, Ohms
1500 Watt/220V Ukrainian Immersion Heater
(About 375W at 120V)

2000 Watt/220V Ukrainian Immersion Heater
(About 500W at 120V)
---
Obviously most of these are too big to carry with you in your luggage, but on trips where you're driving they'd work out okay. Hotel staff is likely to be unconcerned about a microwave oven since the fire danger is minimal. I take along a folding hand truck that folds very flat and small in order to cart the microwave into the hotel. I figured it was cheaper to bring along a small microwave than to pay every time for an upgraded room that included a microwave, though more and more standard rooms now include a microwave oven and a refrigerator, and at most motel chains the breakfast area has a microwave that's available even outside of breakfast hours.
Remember that the cooking wattage is not the same as the wattage that the microwave oven draws. You need to multiply the cooking wattage by about 1.6 to get the input power, or look at the specifications. Don't think that you can power any of these from a vehicle via an inverter connected to your vehicle's cigarette lighter outlet. The Wavebox can be powered directly connected to a vehicle's battery with the vehicle running.
Do not use any microwave with a travel voltage converter.
Sub-2500 cubic inch exterior volume Microwave Ovens
Exterior Dimensions
Brand
Model
Voltage
Magnetron Wattage
Rated Input Wattage
Cooking Cavity
(cubic
feet)
Width (inches)
Height (inches)
Depth (inches)
Volume (cubic inches)
Controls
Price ($)
Source
GE
JEi324GFA
220
500
?
0.3
11
13
11
1573
Electronic
55
http://www.samstores.com
Wavebox
None
12 or 120
235/660
Varies
0.24
15
11
10
1650
Electronic
199
http://thewavebox.com/original.cfm
Haier
MWM6600RW
120
600
950
0.6
17
10.4
13
2241
Mechanical
49
K-Mart
GE
JES735WJ
120
700
1050
0.7
17.8
10.2
13
2360
Electronic
45-60
Sams Club, Sears, etc.
Contoure
ICM-CM7040B
120
700
1150
0.6
17.0
10.1
12.8
2195
Electronic
115
http://www.sailorsams.com
---
GE Mike
GE has a 220 volt/50 Hz, 0.3 cu. ft. Microwave for users in 220V/50 Hz countries. You could also use it with a step up transformer, though it'd be at 60 Hz which might affect it somewhat, but probably not. The same store sells the transformer. You could also buy a 12 volt to 220V power inverter for mobile use, and still spend less than the Wavebox. As with the Wavebox you'd need to hook the inverter directly to the battery with very heavy gauge cable, as it will draw about 70 amps of +12V. Too bad GE doesn't sell a 120 volt version of this. This microwave is very small, and I question its usefulness. For boiling water for noodles, you could just as well use an immersion heater.
http://www.samstores.com/details.asp?ProdID=1530
---
Wavebox
A very expensive, very small microwave that will run off of 12 volts or 120 volts. Almost no car outlet is 20 amps as required, so to run it from 12 volts you'll need to hook it directly to the vehicle battery with heavy gauge wire. This microwave is very small, and I question its usefulness. For boiling water for noodles, you could just as well use an immersion heater.
Might not be available anymore, as their web site "Buy" button gives an error.

---
Haier MWM6600RW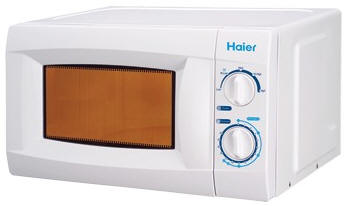 http://www.kmart.com/shc/s/p_10151_10104_011V002607946000P?prdNo=7&blockNo=7&blockType=G7#desc
---
General Electric JES735WJ
This is a 700 watt, 0.7 cubic foot microwave that is physically the same outer volume as the 0.5 cubic foot Tappan. Since it's higher power it's less suitable for boats and RVs so it's not premium priced. $50 from Sears. Not suitable for use on an inverter. This is probably the best choice in terms of size and price and quality if you don't care about running it off of an inverter. Often on sale for around $40. Some stores like BrandsMart in Florida will have it for even less.
---
Contoure
This replaces the discontinued Tappan model, but it is higher power. It's designed for RVs. It's only slightly smaller than the other small microwave ovens available, and much more expensive.
---
Since almost every hotel has free ice available, you should always pack a folding cooler tote with you to use to keep your purchased food and leftovers from spoiling. In the winter, put some snow into a zipper freezer bag. You really don't need to bring along an electric Peltier element cooler (though electric coolers can be more convenient than always replenishing the ice they don't get very cold (36 degrees F below ambient) and require a big AC converter for hotel room use. Folding coolers are available at Costco, Target, Wal-Mart, Cabela's, etc. For some reason, bagged ice has gotten really expensive at many supermarkets. Wal-Mart has good prices if convenient, and some Costco's sell bagged ice as well.
California Innovations has a wide selection of collapsible coolers, and are often available at very good prices at Costco.
---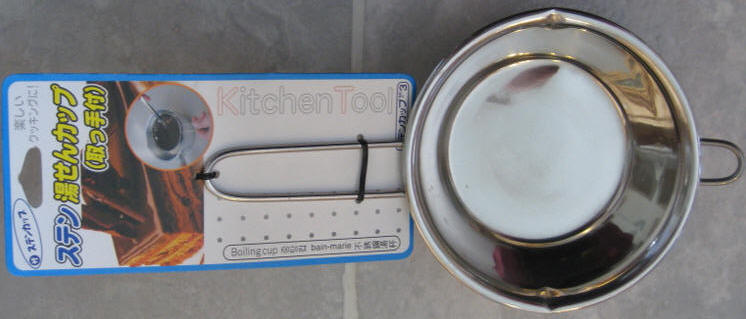 $1.50 steel "boiling cup" from Daiso can be used as a cup, bowl, or submerged part way in boiling water to heat food.
Don't forget to bring along these essential items:
Can opener

Corkscrew

Utility Knife

Vegetable Peeler

Eating utensils (knife, fork, spoon, chopsticks)

Plates (metal camping plates are best)

Cups (steel Sierra cups allow heating beverages on a skillet or griddle)

Spatula

Small Electric Coffee Grinder

Grater

Folding colander or collapsible strainer

Pots and pans if using a coil burner (look at non-stick camping cook sets)

Bottle brush (for cleaning travel mugs)

Scrubber sponge

Pyrex measuring cup

Food wrapping (foil, waxed paper, plastic wrap, zipper storage bags in multiple sizes)

Folding Cart (to cart in all your stuff)

Steel Boiling Cups. These look like Sierra cups, and can be used for drinking, eating, and cooking.
I suggest checking out Campmor for kitchen items used for camping.
| | | | | | | | | |
| --- | --- | --- | --- | --- | --- | --- | --- | --- |
| | | | | | | | | |
| Folding Handle Non-Stick Frying Pan | Non-Stick Cookset | Olicamp Space Saver Cup Holds 16 ounces | Steel Boiling Cup | Aluminum Plate | MSR Kitchen | Folding Colander | Pyrex Measuring Cup | Folding Hand Truck |
---
Many hotel rooms don't have enough electrical outlets even for just regular stuff like cell phone chargers, camera battery chargers, etc., so bring the following along:
Triple taps (3 wire)

Extension cords (3 wire)
I especially like the triple tap with two USB power ports since these can be used for cell phone charging with a USB to Micro-USB or Mini-USB cable, rather than needing a separate cell phone charger.
---
Don't leave a big mess for the hotel maid to clean up, or they may report you to the management for in-room cooking. Don't forget to tip the housekeeping staff daily ($3-$5). Since different crews clean on different days, it's better to tip each day, than to leave a bigger tip when you check out.
Bring along these cleaning items:
Sponge

Dish Towel

Dish soap

Paper towels

Plastic garbage bags
---
---
Camping spice dispenser with spices (REI)

Catsup packets

Mustard packets

Small bottle of Tabasco sauce

Mayonnaise packets

Soy sauce packets

Salt and pepper packets

Sugar packets

Cooking oil

Extra-Virgin Olive Oil

Cinnamon

Tabasco Sauce
---
Coffee beans or ground coffee

Tea bags

Hot chocolate packets

Nido instant whole milk (buy at Mexican or Asian market)
---
Check stores like Trader Joe's for a good selection of foods that require minimal preparation.
---
Breakfast Suggestions:
Eggs

Bacon

Sausage

Oatmeal

Grits

Toast

Bagels
---
Lunch Suggestions:
Sandwiches

Soups

Pasta

Chili
---
---
Appetizers
Meatballs

Little Smokies sausages

Mini Quiche
---
Soup
---
Entrees
Grilled fish

Steak

Pasta with sauce

Hot dogs

Grilled sandwiches

Grilled chicken breast
---
Starches
Rice

Instant potatoes

Pasta

Polenta
---
Vegetables
Steamed broccoli

Steamed carrots

Canned corn

Canned peas
---
Desserts
---
Please Support this Web Site by Using these Links when Ordering from B&H, Amazon or Adorama

I pay for the domain names and web hosting for these informational web sites out of my own pocket, to support the dissemination of accurate and unbiased information on the web. Please help me continue to provide this service by using these links when ordering from Amazon, B&H, or Adorama. I receive a small percentage of sales when you use these links. Thank you to everyone that has been supporting these sites.


© 2012, The Nordic Group. No part of this website may be reproduced without written consent of the Nordic Group.