Folding Bicycle Information
Last Updated: 2002 August 15
Compiled by Steven M. Scharf
Dr. Folder
Wow, after more than five years, I'm updating this site! Kids, New Houses,
Job Changes, & a Lot of Travel have taken place since the last update. I've culled the
collection, selling off Redlof, Caribike, & Dahon Classic folders, but I've added three
Neobike Bromptons and a Gekko.
Bear with me as I remove the obsolete Products, update all the links,
and add all the new products that have come out in the last five years.
Send me information, pictures, commercial announcements, etc. I can't publish information about your product if I don't know it exists! Samples are always helpful too.
This is a non-profit, non-commercial site and I update it as time permits. I travel overseas for work quite a bit so I am not able to always do timely updates.
Please e-mail me scharf@hotmail.com with comments, criticisms, complaints, additions, corrections, etc. Since I have not ridden (or even seen) many of the bicycles listed, I rely on comments from owners. Manufacturers can send me bicycles to evaluate. Also, e-mail me digitized photos of your folder for inclusion in the web page. While e-mail is preferred, you can also send information to P.O. Box 467, Cupertino, CA 95015-0467 USA.
If you want to help support this site, use my affiliate links for various products.
---
Table Of Contents
---
Summary of Recent Additions and Deletions
General
Bazooka
 San Francisco Bay Area Centric
Nothing. I've missed the last several folder rides for various reasons.
---
EVERYTHING BELOW REFLECTS MY (AND OTHERS) OPINIONS. SPECIFICATIONS COME FROM MANUFACTURER PROVIDED INFORMATION AND ARE NOT GUARANTEED TO BE ACCURATE.
---
There seems to be a burgeoning interest in folding bicycles. The last time I visited the Bike Show in Taipei I was surprised by the variety of folding bicycles that were not available in the U.S. A few of these have since appeared in the U.S. under other brand names, i.e. the RedloF as a Fuji, and the Gomier GM-518 as a Foldacycle. As with most specialty products, the high end is where the money is made for a product that will never have mass-market appeal. Alex Moulton realized this from the beginning, and never tried to go after the low end of the market.
The Montague and bike friday have become quite popular in the U.S., and the Brompton has become popular in the U.K. Look for the Taiwanese manufacturers to start offering higher end models with better components very soon. DaHon is starting to offer some higher end bikes and DaHon's have the advantage of folding very small, with both wheels on. One of the best compact folders, the Brompton, has limited U.S. availability, and at this time the lower priced licensed model, manufactured in Taiwan, is not available in the U.S. at all.
At least in the U.S., folding bikes are purchased mainly for ease of carriage on public transportation (trains, ferries, planes), and private transportation (cars, RVs, small planes, and boats). Even public transit that permits bicycles often limits the number of bicycles and the hours that they are allowed. The San Francisco Bay Area is a popular location for folding bikes because of the two rail systems that serve the area (BART permits full size bikes only during non-rush hour times except in the non-commute direction). CalTrain permits 24 bikes per train at all times, but this isn't enough capacity.
There are better options than folding bikes if all that is desired is the ability to bring the bike on an airplane without paying the extra fee (S&S Torque Couplers, or just a disguised hard case). Some people like folders because they are easier to transport in their car, but for the cost of the folding feature they could buy a high quality Thule roof rack.
The ideal folder has yet to be built. The Montague and Slingshot are excellent bicycles, but they don't fold small enough due to their large wheels. The bike friday suffers from the small wheel size which contributes to a harsher ride plus wheel heating problems reported by owners (though no Moulton owners report similar wheel problems so it may be strictly a bike friday issue). The Birdy, Brompton and the small DaHons lack a wide enough gear range for use in hilly areas (like San Francisco), though it is possible to modify them to provide adequate gearing.
For me, the ideal folder would be one that folds as small as an 18" Birdy, a 20" DaHon Explorer or 16" Brompton, weighs no more than 26 pounds, has very wide gearing, handles like a full size bike, has a suspended frame, gets around the heating problem of small wheels by use of disc or drum or hub brakes, has folding pedals to reduce the folded width, uses all standard components and accessories (other than the frame), and can be folded and bagged in less than 2 minutes. Note that purchasers of folding bikes tend to be fairly affluent and that price is usually NOT their first concern. Mid-quality folding bikes start at about $400, and very high quality ones can cost over $1600. TOP
---
Patents
Since there are a limited number of ways that frames, seats, and handlebars can fold or collapse, there are a number of patent issues that have arisen in the folding bicycle industry. This affects the availability of certain brands and models, especially in countries like the U.S. where there is strong patent protection. Naturally every designer claims that their system is different, and that the other patents don't apply. DaHon and Montague, as the leaders in modern folders, seem to have the strongest patent position. Moulton also is hedged with protection.
There is a lot of cross-licensing going on, with seemingly identical bikes coming out of the same factory, but with different names on them. Note that very few bicycle companies (folder or otherwise) actually manufacture anything themselves. Manufacturing is contracted out to bicycle factories, mainly in Taiwan.
While there may be a trickle of patent violating models making it in to the U.S. and European countries, the patent holders will zealously defend their patents should anyone attempt wholesale violation. It is unlikely that there will be a flood into the U.S. and European market of the best designs from throughout the world, manufactured by factories in Taiwan, and sold at bargain basement prices. TOP
---
Selection Criteria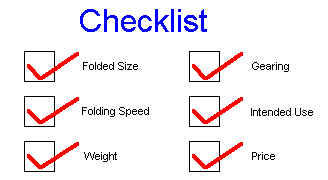 How small do you need the folded package to be?
Full size folders have a better ride and better handling, but can be a pain to take on public transit. Small folders have the advantage of folding small, but sacrifice ride quality due to the smaller wheels and to the steering. However some smaller folders have added suspension to compensate for the harsher ride provided by the smaller wheels.


How fast do you need to be able to fold it?
Some folders can be folded and bagged in less than a minute. Others can take up to five minutes. Disassembleable bikes can take 30 minutes. Brompton, Birdy, and DaHon fold very fast.

If your main need is to be able to pack the bike for transport by plane or train, and you don't need to frequently fold it, then retrofitting an existing bike with S&S torque couplers may be a better option than buying a folder.


How light of a bike do you need?
Price goes up as weight goes down. A DaHon full size folder weighs 34 pounds and sells for $400, while the Montague's weigh from 26 to 29 pounds and sell for $460 to $800. The Fuji weighs about 29 pounds and sells for about $350. If you plan on riding a lot of hills then try to keep the weight under 30 pounds. DaHon is introducing some higher end models; this will likely bring the weight down by several pounds. The Birdy is an excellent value for a 24.5 pound machine.


What gear ratio do you need?
If you will be riding up steep hills, you'll want a bike with very low gears, so the Brompton's and DaHon 16-20" bikes are not acceptable, but some bike friday's, the Fuji's, and the Montague's are fine.


How will you be using it?
If you're only planning on riding 1-2 level miles to a train station, then even the $130 5 speed Rand Traveler will be adequate. If you plan to do recreational rides with a lot of hills as well as using it to commute then you'll want to buy a better quality and lighter bike. Many people have different bikes for different purposes. It may be more cost effective to buy a cheap folder for short commutes and a regular bike for recreational riding, than to buy a high end folder. You may not really need to spend $800-1800 on a high end folding bike. I get upset when people that want to use the local commuter train complain that the bike space is always full and that they cannot afford $1500 for a folding bicycle, when for most of them a $300-600 model would be fine.


How much are you willing to spend?
New folders range from $100 to over $1800. At the bottom end you get a steel wheeled, hi-tensile steel frame, one speed, U frame model, reminiscent of the old Peugeot folders. At the high end, you get a Cromoly steel frame with top of the line components, and suspension. DaHon has a goal of only a 25% price difference between folding and non-folding bikes of equivalent quality. With bikes like the Montague I estimate a 100% premium. TOP
---
Summary of Folder Manufacturers by Type

Full size folders 
 Recumbent
Electric Folders
Disassembleable
Tandems
---
Where to Purchase Folding Bicycles $ £ ¥ ¢
In the U.S., most folding bikes are not sold through traditional channels (bike shops). DaHon appears to be the only one sold exclusively through bicycle shops. At least in the U.S., most manufacturers sell direct (i.e. Montague, Slingshot, Foldacycle, bike friday) or through a couple of sole proprietorship distributors (i.e. Moulton, Brompton), or through mail order companies (i.e. Fuji, but Fuji also sells their folder in selected bike shops). Some sell direct plus in a few select shops, i.e. bike friday, Moulton, & Montague (direct pricing is usually less). Apparently, the volumes are so low for these bikes that most bike shops are not willing to carry them, plus the manufacturer expects higher margins on these specialty items than a high volume bicycle manufacturer is willing to accept.
If folding bikes become more popular, a multi-tiered distribution strategy will emerge, with the high end being sold direct or through bicycle shops, and the mid-range and lower end being sold under different labels at discount stores, warehouse stores, car dealers, etc. This strategy is already emerging for non-folding bikes. Specialized sells mid-range bikes (mid-range in the sense of comparing them to typical department store bikes) through Price-Costco and Sportmart under the name, 'Full Force.'
I don't know how folders are sold in countries other than the U.S., but in Taiwan the Neobike manufactured Brompton is sold in all sorts of stores (even hotel shops) as well as direct from Neobike. When I was there, the Brompton price at my hotel was the same as direct from Neobike. From my first issue of 'The Folder' I could deduce that in the U.K., folding bikes are sold in bike shops, not via mail order direct. TOP
---
 The Folding Society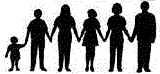 The Folding Society was established in the UK in August 1993 to bring together folding bike enthusiasts, manufacturers and retail outlets from all over the world. Bi-monthly magazine 'The Folder' features road tests, prices, letters, public transport information and much else. Annual membership - 6.0 UK pounds (UK), 7.5 UK pounds (Europe) 12.0 US dollars (elsewhere surface mail) . Address: 19 West Park, Castle Cary, Somerset, BA7 7DB, England. Phone/Fax: +44 1963 351649. e-mail, Folder@Dome.Demon.co.UK. Skewed toward the U.K. and Europe. TOP
---
"It's in the bag!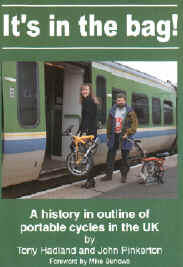 A history in outline of portable cycles in the U.K." by Tony Hadland & John Pinkerton
This book is centered on products of the U.K. cycle industry, but does include some coverage of imports. The Moulton distributor for the western U.S. kindly gave me a copy (autographed) at Interbike. Tony Hadland also wrote two books about Moulton's.
Limited edition hardback is 13.95 U.K. pounds Standard edition is 9.45 U.K. pounds. Includes postage for U.K. orders. Rest of Europe add 1 U.K. pound, rest of world add 2 U.K. pounds. Mail a money order in U.K. funds to Mrs. D. Pinkerton, 522 Holly Lane, Erdington, Birmingham B24 6LY You can probably also get this book in the U.S. To find a retail dealer contact Dekker Services by e-mail at mdekker@eskimo.com or check out their web site at http://www.eskimo.com/~mdekker/. TOP
---
Recent Road Tests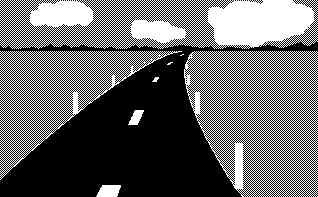 I received a Gekko from Hong Kong on May 29th (no thanks to the bungling of FedEx in California). It's quite a piece of artwork and mechanical engineering. The frame appears to be very strong and the bike is quite heavy at 34 pounds. The ride is pretty good; no worse than that of a Brompton, and the handlebars are not as fragile (Brompton is now producing a brace to fix the handlebar issue). Clearly the Gekko is not designed for any hill climbing as it is one speed.
I rode a Dahon Boardwalk that a colleague just bought. Dahon has really come a long way since the days of their 16" classic. For $259, this bike is a heck of a deal. If you don't need the compactness of a Brompton, I'd choose the Dahon Boardwalk in a second.
---
I haven't ridden any of these. The Anchor looks like a Brompton, but it folds with the chain on theoutside.
| | |
| --- | --- |
| | Anchor |
| | |
| Wheel Size | 16" |
| Folded Size | 22" x 29" x 12" |
| Height Range | 58"-75" |
| Weight Limit | 220 pounds |
| Frame Material | Hi-Ten Steel |
| Weight | 30 pounds |
| Speeds | 3 |
| Price | $375 |
| | |
| --- | --- |
| | Explorer |
| | |
| Wheel Size | 20" |
| Folded Size | 32"x24"x13" |
| Height Range | 58"-76" |
| Weight Limit | 200 pounds |
| Frame Material | Hi-Ten Steel |
| Weight | 30 pounds |
| Speeds | 1 |
| Price | $219 |
| | |
| --- | --- |
| | Hunter |
| | |
| Wheel Size | 14" |
| Folded Size | 23" x 20" x 14" |
| Height Range | 48"-73" |
| Weight Limit | 200 pounds |
| Frame Material | Hi-Ten Steel |
| Weight | 25 pounds |
| Speeds | 1 |
| Price | $187 |
| | |
| --- | --- |
| | Jet |
| | |
| Wheel Size | 20" |
| Folded Size | ? |
| Height Range | 58"-73" |
| Weight Limit | 220 pounds |
| Frame Material | Hi-Ten Steel |
| Weight | 35 pounds |
| Speeds | 7 |
| Price | $379 |
| | |
| --- | --- |
| | Navigator |
| | |
| Wheel Size | 26" |
| Folded Size | 38"x 29"x 13" |
| Height Range | 60"-76" |
| Weight Limit | 240 pounds |
| Frame Material | Aluminum |
| Weight | 36 pounds |
| Speeds | 21 |
| Price | $439 |
| | |
| --- | --- |
| | Nautica |
| | |
| Wheel Size | 16" |
| Folded Size | 30"x23"x13" |
| Height Range | 58"-76" |
| Weight Limit | 230 pounds |
| Frame Material | Aluminum |
| Weight | 23 lbs |
| Speeds | 3 |
| Price | $539 |
---
This could be a good choice for a level ride to a train station or bus stop, to use on bike trails, to keep in your office for an inter-building bike, or to keep on your boat, plane, or RV. It's surprisingly solid, I don't feel like I have to baby it (like my Neobike Brompton). It's single speed and it weighs a hefty 34 pounds. Quite a piece of engineering, it looks like it belongs in an art museum. 12 pivots for the frame to compact. The folded package is narrower, but a bit taller than that of the Brompton. The brakes and crankset are a notch above what you normally see on folding bikes (far better than the Taiwanese Neobike Brompton).
Folded dimensions: LxWxH = 740 x 280 x 710mm
Unfolded dimensions: L x Wx H = 1120 x 570 x 950mm
No pricing or availability information yet.
http://www.tsanchingltd.com/main.htm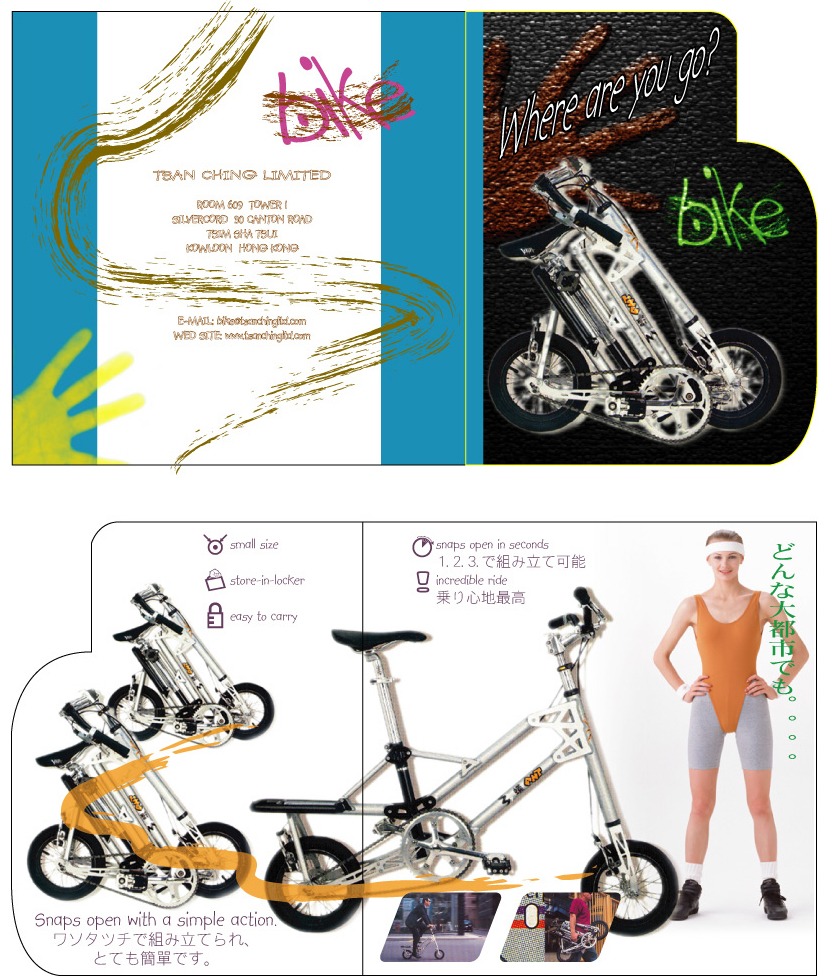 ---
The Giant Halfway comes in one speed and six speed versions. Very light. Not sold in all countries.
http://www.giant-bicycles.com/uk/030.000.000/030.000.000.asp?lYear=2002&section=8780&range=47&model=9800
http://www.giant-bicycles.com/uk/030.000.000/030.000.000.asp?lYear=2002&section=8780&range=47&model=9801
---
Premium quality folding bikes, custom made, with hundreds of possible combinations of gearing, bars, tires, etc. I've never seen one or ridden one. You can see an owner's comments at: http://www.geocities.com/cyqlist/pbw.html . Somehow I don't think that I'm going to get a free evaluation unit of one of these!
| | | | |
| --- | --- | --- | --- |
| | | | |
| | MTB | Road | Upright |
| Speeds | 21 or 14 | 21 | 8, 9, 14 or 21 |
| Weight (pounds) | 28-29 | 26-29 | ? |
| Folded Size (inches) | About 30 x 30 x 12 | About 30 x 30 x 12 | About 30 x 30 x 12 |
| Price | $1500-2495 | $1500-1745 | $1300-2720 |
---
This bike doesn't really fold very small, only to 24" x 44" x 18" and costs $214. A lousy deal by any measure.
---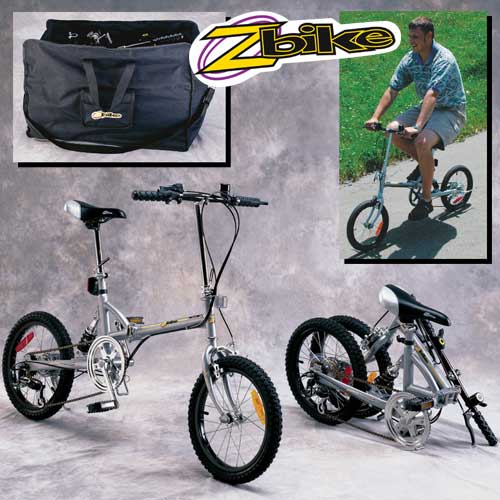 Folded Dimensions: 12"x22"x31"
Wheels: 20"
Weight: 28 pounds
Gears: 3
Capacity: 220 pounds
Price: $120 (not clear if the carrying case is included)
http://www.heartlandamerica.com/se/22881.html
---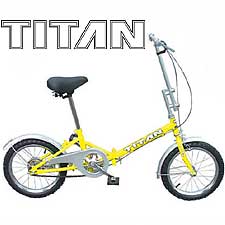 Folded Dimensions: Unknown
Wheels: 16"
Weight: Unknown
Gears: 1
Capacity: 220 pounds
Price: $130 (not clear if the carrying case is included)
http://www.heartlandamerica.com/se/22883.html
---
Vikkino
These are concept bikes.
---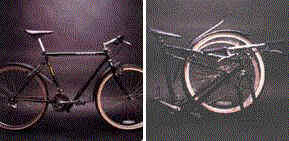 Montague has a line of large wheeled folders. Please visit their web site for details.
My experience:
My Urban arrived on May 8, 1996, about 5.5 months after I ordered it. I use it mainly for commuting via CalTrain, but have started using it more and more for recreational rides. The shifting is silky smooth, and it is a pleasure climbing hills. Folded it is pretty unwieldy, but not impossible. The light weight makes it not bad to carry. I roll up the carrying bag and strap it to the rear rack.
The bike is shipped partially disassembled and totally unadjusted. The box advises that it must be assembled by a bike shop, and this advice should be heeded by people without the tools and knowledge to assemble and adjust it (an advantage of the DaHon is that it is sold only in bike shops, fully assembled).
Assembly & Design Frustrations
Assembly instructions that didn't match the bicycle's components.
The handlebar height is not adjustable due to the type of headset.
Their special bracket for the rear luggage rack interferes with the rear brake straddle cable; their advice--put in a vise and bend it so it doesn't hit (thanks, but if you knew of the problem, why didn't you modify it).
The wheels were out of true.
The rear rack interferes with folding, even though they claim it doesn't.
Junk I added
Nashbar rear rack.
Cateye cordless computer (returned lousy Nashbar computer).
Blackburn gauge pump that attaches to the water bottle braze-ons .
One Alloy Mountain Bike water bottle cage.
One Specialized Composite Plastic water bottle cage,(the Thermos stainless steel 18.5 vacuum bottle fits water bottle cages, and the plastic cage avoids scratching and holds it more securely).
Zefal folding rear view Mirror.
Ding bell with compass.
Power Grips. These are foot straps that are in place of toe clips or clipless pedals (which are unusable on the folding pedals). The folding pedals are not actually compatible with Power Grips, I had to drill three holes in the plastic of each pedal and use slightly longer bolts (M5x16 and M5x18) and slightly smaller washers.
Nashbar attaché, a nylon briefcase that attaches like a pannier to the rear rack. TOP
---
bike friday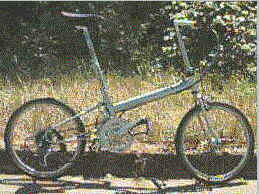 TOP
bike friday is a premium small-wheeled folding bike if you're looking for a folder that is available with a wide gearing range (the Brompton is also a premier small-wheeled folding bike, but the lack of a wide gearing range limits its applications). The least expensive bike friday is a seven speed commuter model for $600. While this may seem like a better deal than the Brompton, the Brompton folds much much faster and smaller, so for commuting on trains the Brompton is superior provided you can live with a 3 or 5 speed (I expect that eventually Brompton will offer some models with a 7 speed internal hub).
For a travel bike I would choose the Gaerlan gt20 over the bike friday without any hesitation; a better bike for a lower price.
bike friday makes several other models ranging from $900 to $1300, and a tandem for $2450. bike friday custom makes each bike, so you can have a nearly infinite number of component choices and combinations. Some models do not include seats or pedals--be careful when comparing weights of different models. With the combination of an 8 speed freewheel, a triple crankset, and a 7 speed rear hub you could have a 168 speed bicycle!
bike friday both folds and disassembles, depending on how small you want it and how much time you have. It is an excellent quality, premium priced bicycle. It seems that nearly all bike friday owners are thrilled with these machines.
For each model (not tandem): Hard Case: $155, Hard Case w/Trailer: $300, Soft Case: $69, Racks: Rear: $49, Front: $54.
This is one model, a touring model, contact them for others:
| | |
| --- | --- |
| Model | New World Tourist |
| Color | Red, Black, Blue |
| Frame | 4130 Custom Drawn Chromoloy |
| Gearing | 21 Speed |
| Shifters | ? |
| Crankset | Alloy Triple |
| Brakes | Diacompe Side Pull Caliper |
| Tires | 20x1.5 |
| Rims | 20x1.5 |
| Spokes | Stainless steel |
| Fenders | None |
| Pedals | MTB style |
| Saddle | Viscount male and female specific |
| H2O Bosses | 3 |
| Folded Size | 34x27x34 |
| Disassembled Size | 29x22x10 |
| Frame Sizes | Many |
| Weight (pounds) | 25 (with saddle and pedals) |
| Price | $895 |
GREEN GEAR CYCLING: 503-687-0487 or 800-777-0258 e-mail: bikefriday@aol.com WWW:  http://www.greengear.com/. TOP
---
DaHon California, 8FL-2 #6 LN 609 Chung Hsin Rd Sec 5, Sanchung, Taipei Hsien. Phone: 02 9959224 Fax: 02 9959360
If you bought one of the early DaHon's (or Hon's) and vowed never to buy another one, you may want to reconsider. Quality has improved and they have introduced some higher end models. DaHon made the same mistake as Hyundai by coming out with low end products to start, then having to overcome an image problem. The company was originally named "Hon" after the founder, but the Hon office furniture company threatened them because of the name (I guess a lot of people went to buy filing cabinets and bought folding bicycles by mistake).
Click on Photo to go to Dahon Page for Each Bike
| | | | |
| --- | --- | --- | --- |
| 16" Wheel Models | Piccolo | Presto | |
| | | | |
| Speeds | 3 | 3 | |
| Folded Size (inches) | 11 x 20 x 30 | 11 x 20 x 33 | |
| Weight (pounds) | 26 | 22 | |
| MSRP | 300 | 500 | |
| | | | |
| --- | --- | --- | --- |
| 20" Wheel Models | Boardwalk 1 | Boardwalk 6 | Mariner 20 |
| | | | |
| Speeds | 1 | 6 | 6 |
| Folded Size (inches) | 11 x 22 x33 | 11 x 22 x33 | 11 x 22 x33 |
| Weight (pounds) | 26 | 27 | 27 |
| MSRP | 180 | 250 | 300 |
| | | | |
| --- | --- | --- | --- |
| 20" Wheel Models | Roo 3 | Speed 8 | Helios 8 |
| | | | |
| Speeds | 3 | 8 | 8 |
| Folded Size (inches) | 11 x 22 x33 | 11 x 22 x33 | 11 x 22 x33 |
| Weight (pounds) | 25 | 26 | 25 |
| MSRP | 500 | 370 | 500 |
| | | | |
| --- | --- | --- | --- |
| 20" Wheel Models | Helios SL | Helios-LE | Speed Pro |
| | | | |
| Speeds | 8 | 5 | 24 |
| Folded Size (inches) | 11 x 22 x33 | 11 x 22 x33 | 11 x 22 x33 |
| Weight (pounds) | 21 | 26 | 28 |
| MSRP | 800 | Non-U.S. Model | 700 |
| | | | |
| --- | --- | --- | --- |
| 20" Wheel Models | Vivo | Impulse 3 | |
| | | | |
| Speeds | 1 | 3 | |
| Folded Size (inches) | 11 x 20 x 30 | 11 x 22 x33 | |
| Weight (pounds) | 26 | 26 | |
| MSRP | Non-U.S. Model | Non-U.S. Model | |
| | | | |
| --- | --- | --- | --- |
| 20" Wheel Models | VX-9 | Roo-EL (Electric) | Compac |
| | | | |
| Speeds | 9 | 5 | 1 |
| Folded Size (inches) | 11 x 22 x33 | 11 x 22 x33 | 11 x 20 x30 |
| Weight (pounds) | 25 | 36 | 26 |
| MSRP | Non-U.S. Model | Non-U.S. Model | Non-U.S. Model |
| | | | |
| --- | --- | --- | --- |
| 26" Wheel Models | Espresso | Matrix | Zero-G |
| | | | |
| Speeds | 21 | 24 | 27 |
| Folded Size (inches) | 14 x 27 x36 | 15 x 27 x 36 | 15 x 27 x 36 |
| Weight (pounds) | 31 | 29 | 28 |
| MSRP | $300 | $500 | 1100 |
DaHon California, 8FL-2 #6 LN 609 Chung Hsin Rd Sec 5, Sanchung, Taipei Hsien. Phone: 02 9959224 Fax: 02 9959360
If you bought one of the early DaHons and vowed never to buy another one, you may want to reconsider. Quality has improved and they have introduced some higher end models. DaHon 26" bikes fold on the top tube and down tube, making them fold better than the Montague in terms of compactness. They are easier to manage than the Montague when folded; since both wheels are parallel you can roll it.
Nylon carry bags available for all models.  TOP
---
Fuji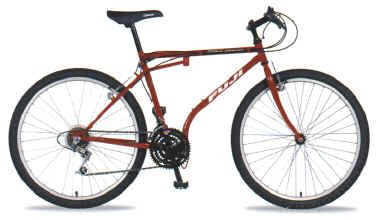 | | |
| --- | --- |
| Model | Folder |
| Color | Red |
| Frame Material/Size | Hi-Ten |
| Gearing | Shimano Tourney TY-15,MF-HG-Z015 |
| Shifters | Shimano TY-15 |
| Crankset | Black ATB 28/38/48 |
| Brakes | Alloy Cantilever |
| Tire Size | 26"x2.0" |
| Rims | Alex Alloy 36H |
| Hubs | 36H Bolt-On |
| Spokes | 14 gauge UCP |
| Fenders | No |
| Pedals | Lightweight ATB |
| Saddle | ATB Sport |
| H2O Bosses | 1 |
| Folded Size (cm) | 80x105 |
| Weight (kg) | 12.9kg |
| Price | $350 |
Discontinued. Still seen for sale occasionally on eBay.
---
Slingshot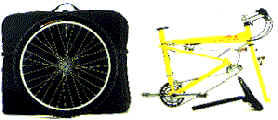 Slingshot Bicycle company manufactures high end advanced suspension bicycles that are available as folding models.
http://www.slingshotbikes.com/
It is not clear if they are still selling folding models.
---
http://www.gaerlan.bizland.com/
One of the finest folding bicycles available on the market. This is the best choice for touring.
Gaerlan also sells some customized Dahon models, some standard Dahon models, and one Montague model.
They also sell a suitcase suitable for many folding bicycles, see: http://www.gaerlan.bizland.com/bikes/jumbo/jumbo.html

---
http://www.china-fair.com/2cpzl/sh/shfenghuang/Eindex.htm
http://www.phoenix-bicycle.com/ (flakey)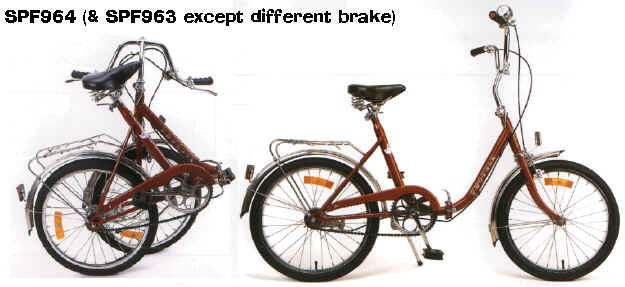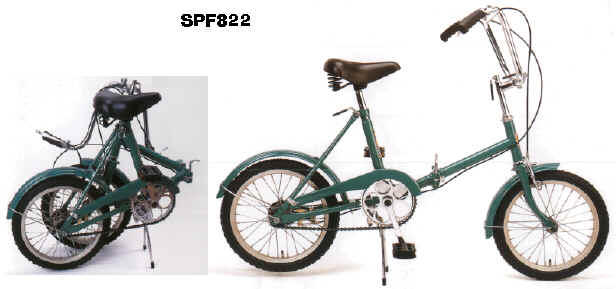 Phoenix bicycles out of China makes this. It looks like the old Peugeot U frame folder. The SPF964 (I think) is sold for $150 at SportMart, a sporting goods superstore in the U.S. However last time I saw it at Sportmart it was on sale for $100. At $150 you'd be better off getting the 5 speed from Damark.
| | | | |
| --- | --- | --- | --- |
| Model | SPF822 | SPF963 | SPF964 |
| Colors | Silver Grey, Green, etc. | Silver Grey, Silver Red | Silver Grey, Silver Red |
| Frame Material/Size | High tensile | High tensile | High tensile |
| Gearing | 1 Spd CW:44T FW: 14T | 1 Spd CW:44T FW: 16T | 1 Spd CW:44T FW: 16T |
| Crankset | 3 pc | Cottered | Cottered |
| Brakes | F Cali[per/ R Band | F Cali[per/ R Coaster | F Cali[per/ R Band |
| Tire Size | 16"x1.75" | 20"x1.75" | 20"x1.75" |
| Rims | Steel 28H | Alloy | Plastic |
| Fenders | Yes | Yes | Yes |
Phoenix is at: 16/F., Phoenix Building, 1690 Kong Jiang Rd., Shanghai, P.R. China, 200092 Tel: 65020908 x 9140, 65021806, FAX: 86-2165029125, 65021741 TOP
---
Linear is out of business, but there still may be some bikes available. See: http://129.79.22.9/linear/index.html
"Linear: Aluminum folding recumbent. 21 speed drivetrain, weight ~~15kg. Rear is either 27x1 or (new) 26 mtb. I have a 700c on mine. Front is 20" (etro 451). Will fold into something not much longer than the frame beam (especially if you remove the wheels). Fits into a Honda Civic hatchback. I assume some sort of airline acceptable case is available, as the folding was done because the airline wasn't willing to take it unfolded. (don't bother folding if you get the above seat steering model, underseat steer works better anyway).
They also have a short wheelbase model, and now a tandem. Since the tandem only folds under the rear wheel, you are still left with an 8 foot beam, so I don't count it as a folder. The lwb was $1200. I don't know what the cost of the other models is. They are a whole lot more comfortable than uprights, and you are at a bit of an aero advantage compared to an upright. A lot less stress is placed on your neck, arms (I bought mine because of a typing overuse injury) and prostate. Linear Bicycles, RR 1, Gutenberg IA 52052 319/252-1637." TOP
---
Brompton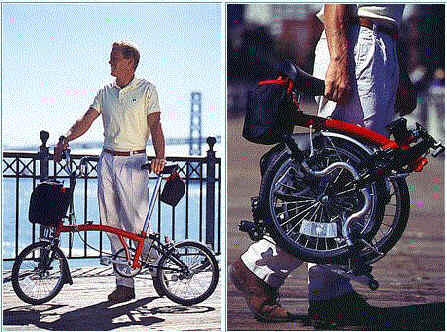 There are two versions of the Brompton. One is manufactured under license by Neobike of Taiwan (see section on Neobike below); one is manufactured in the U.K.
The UK Brompton web page is: http://www.bromptonbicycle.co.uk/
The US Brompton web page is: http://www.bromptonbike.com/
The Taiwanese Neobike Brompton is shown at: http://www.neobike.com/24brompton.html (Neobike manufactures a lower cost, lower quality version of the Brompton and does not export these to Europe or North America. If you want to buy a Neobike Brompton while visiting Taipei, see http://www.nordicgroup.us/bromptai.htm for details.
---
Nexibike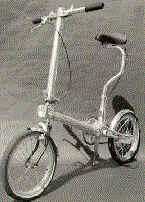 Nexibike is a new compact folder. You can get more information at: http://world.std.com/~nexibike/ . I have never seen one. The front and rear wheel are different sizes. It also can disassemble (optional feature) to reduce the size even more, so that it will fit in the overhead bin of an airplane. The tandem is a $490 add-on to the regular bike (but the web page had a special for $245). Add $200 for take-apart option.
| | | | |
| --- | --- | --- | --- |
| Model Name | Nexibike | Nexibike | Nexibike |
| Speeds | 3 | 5 | 7 |
| Price | $790 | $830 | $880 |
Unless you need a bicycle that can be stored in the overhead bin of a commercial airliner, I can't see getting this bike instead of a Birdy, and if you need something for the overhead storage bin, a Brompton is about the same price and has a better folding design plus suspension. However I haven't tried a Nexibike so perhaps there is some advantage that is not obvious from the literature. TOP
---
Neobike manufactures the L-3 Brompton in Taiwan. The retail price is $250. If you're in Taiwan contact them to purchase one--they will refer you to a shop or sell you one direct. See my other web site, Buying a Brompton in Taiwan, for details. The licensed model is not sold in the U.S. (or Europe to my knowledge), and probably won't ever be. They also have a very wide variety of their own designs, none especially great, and none available in the U.S. due to legal issues with DaHon.
Neobike versus Dahon
Like most folding bicycle manufacturers, Neobike violates some DaHon patents (in particular, the fold down steering tube, used by on many folding bicycles, including Bromptons). I was talking to Joshua Hon (son of the founder of DaHon) about seven years ago, and learned the story. Neobike was started by individuals who were employed by DaHon, and who were sent to the U.K. to negotiate a licensing deal with Brompton. DaHon was going to manufacture the Brompton under license. Instead, these employees negotiated a licensing deal for themselves with Brompton, and started Neobike. DaHon sued Neobike. Even though this case started more than TEN YEARS AGO, it just came to conclusion in April 2002. Five Neobike employees were sentenced to five months in jail and DaHon can now move to recover monetary damages.
See: http://www.bicycleretailer.com/bicycleretailer/headlines/article_display.jsp?vnu_content_id=1465672
---
RedloF

Out of Business
RedloF. 15 speed mountain bike. 12.9kg. Folds with wheels intact. Folded size is 80cm x 105cm. Telephone 4 3266345. FAX 4-3264786. The RedloF web site is: http://ptb.redlof.com.tw/. The frame of the Fuji folding bicycle is made by RedloF. Note: RedloF is a frame manufacturer, they sell their frames to other companies. They have a wide selection of frames including a 20" wheeled bike, a tandem, and a full suspension 26" model. While Fuji is presently marketing the 26" non-suspension model, the other models have not yet been spotted in the U.S. RedloF kindly sent me a sample bicycle with their frame to evaluate (see road test section). TOP
---
Gomier (Foldacycle)
Apparently still in business, but no longer making folding bicycles.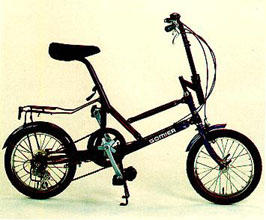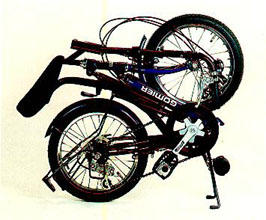 This is the GM518 by Gomier out of Taiwan. 5 speeds. Folds not by the frame hinging in half, but by the entire frame collapsing along the wheel axis. Sold in the U.S. by Pacifik Partners, 800 835-1956. $400. I talked to them at Interbike and they said that they did not think it was the same bike, but the literature they sent me confirmed that it is the same (unless both bikes won the silver medal at the 17th international invention exhibition in Geneva). This bike does fold very fast. They claim that it can be unfolded in less then 10 seconds or in less then 5 seconds (two different pieces of literature from Pacifik Partners). This is not a bike I'd recommend. There is no evidence that the unconventional folding mechanism results in a stronger frame. The bike is too heavy for such a small bike, and too expensive. A DaHon Explorer or DaHon Express would be a better deal (unless you can hop over to Taiwan and pick up a Brompton T-3 for $300). at $300 it would be more attractive.
Model
Gomier GM518
(Foldacycle)
Color
Foldacycle Metallic Blue
Frame
Hi-Ten Steel Foldacycle Black
Gearing
5 Speed Shimano TY-15
Shifters
Shimano TY-15
Crankset
1/2" X 3/32" X 48T X 170mm
Brakes
Alloy F/R 810/810 Lever 131A
Tire Size
18"x?
Rims
18"/18" x 1.75" x 28H Alloy CP
Spokes
14 gauge steel
Fenders
ABS
Pedals
Foldable
Folded Size
32"x6"x21"
Weight
30 lbs
Price
$ 400
In Taiwan, Gomier is at: Tel: 2 772 9354, FAX 2 781 2 1371 or try: Tel: 04 687 2771, FAX: 04 687 6270 FAX:886-4-6881232 One person at Pacifik Partners can be e-mailed at tpc@xpose.com. TOP
---
Apparently out of business.
Shan Shu Bike Co. Ltd. 52 Lane 1, Lin-Shen Road, Ping-Tung City 886-8-723-6850
Distributor may be: James White Co. Ltd. No. 20 Alley 6, Lane 670, Ta-Ya Road, Taichung City, Taiwan 886 4 2959740. FAX: 886-4-296-0039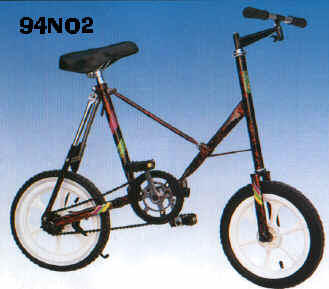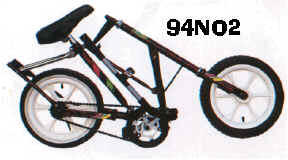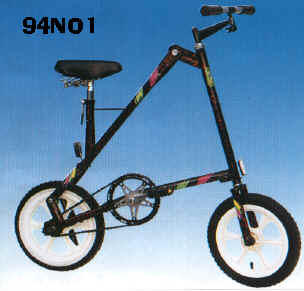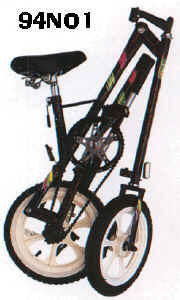 ---
Wheels: 17" x 1 1/4" (the U.S. version has 18" wheels)
Drive: 8-speed rear, 1-speed front, Deore XT with Grip Shift (the U.S. version is 7 speed)
Folded size: 28"x23"x12"
Folding time: 15 seconds
Other: Front and rear suspension
Price: 3000 DM in Germany
Weight is 24.5 pounds
Apparently the Birdy is still available in some countries, but not the U.S. This bike is sold in Japan as a Peugeot. There are now titanium models and a tandem.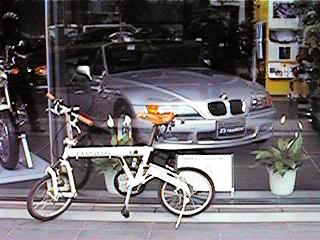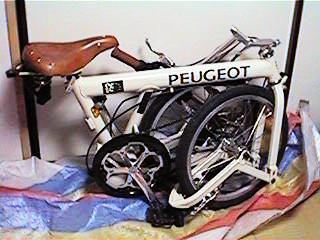 http://member.nifty.ne.jp/aogawa/foldingbike/#whypeugeot
---
A 14" wheeled folder designed by Panasonic in conjunction with Japanese Railways. There are three models, the 7500 (7.5kg), 6500 (6.5kg), 5800 (5.8kg)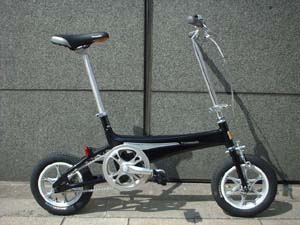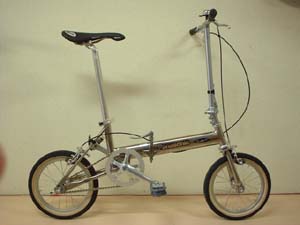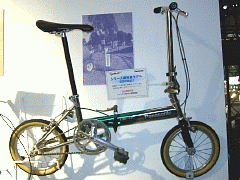 ---
Wow, still in business!
BACKCOUNTRY

| | |
| --- | --- |
| Assembling size | 175x60x95 cm |
| Foliding size | 96x76x30 cm |
| Tire size | 26 inch |
| Weight | 13.2 kg |

ACTIVE GEAR

| | |
| --- | --- |
| Assembling size | 165x57x92 cm |
| Foliding size | 93x31x75 cm |
| Tire size | 26 inch |
| Weight | 17 kg |

CITY HOPPER

| | |
| --- | --- |
| Assembling size | 158x53x104 cm |
| Foliding size | 86x35x64 cm |
| Tire size | 20 inch |
| Weight | 15.5 kg |
---
Still in Business!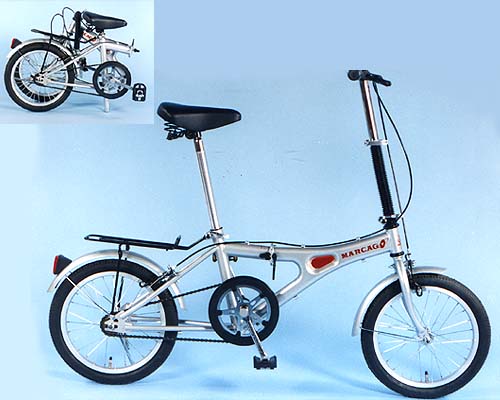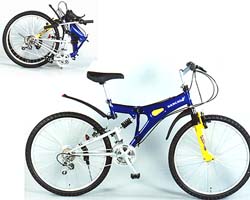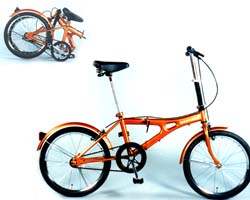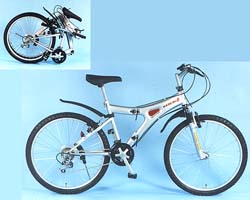 ---
Sheng Fa Industries Co.
Still in Business!
http://www.bike.com.tw/e/029660091/next-01d.htm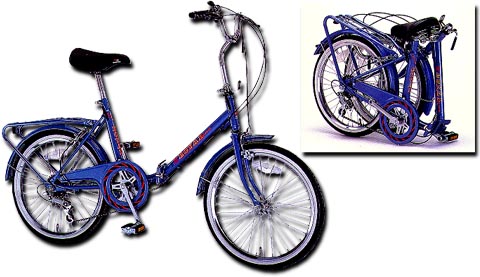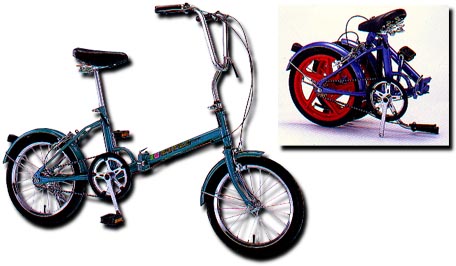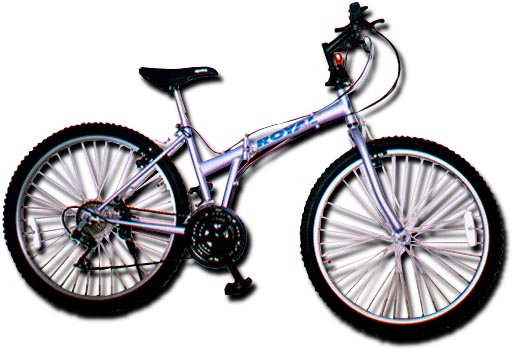 Sheng Fa Industries Co. Ltd. No 417, Ta Kuan Rd, Sec 2, Panchiao, Taipei Hsien. Tel: 02 96660091, FAX 886 2 968 7883
---
 Galaxe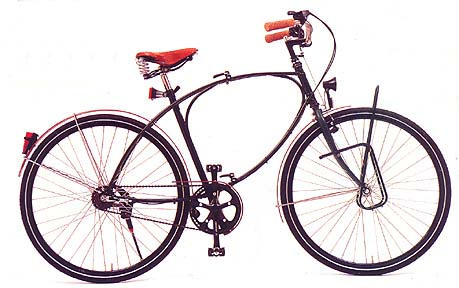 May no longer be available
Wheels: 700c to 28"
Folding time: 10 seconds
Drive: Pentasport 5-speed hub. Sachs Super-7 optional
Other: Folding pedals
Price: 2720 to 3300 DM (Germany)
Part of the text from the web site: 'The Galaxe was never meant to be the meanest folder on the market; but it folds well enough for public transport and compact home storage. Twin levers on the frame allow a single fold, and a quick-release lever on the stem brings the handlebar parallel. It takes about ten seconds and leaves the chain on the inside. The folding facility does not affect performance. A recent study at the University of Odense revealed no difference in rigidity between the Galaxe frame and that of a good quality diamond frame. The Galaxe's large 28" wheels (a size common on cobble-cruising North European roadsters) give a very comfortable ride.' Manufactured by by Galaxe Cykler (Denmark).
Try: Niels Keld Madsen, Stationsvej 50, 5464 Brenderup Fyn Tlf.: 6444 1740, Fax: 6444 1748
---
Daewoo Shuttle
Apparently no longer available
The Daewoo 'Shuttle' will be produced in two versions, steel and aluminum. The steel version will weigh about 23 pounds, and the aluminum will weigh about 21 pounds. The frame does not fold, which results in a longer, but narrower folded size (this is not necessarily bad, on some trains there are back to back seats that have a long, but narrow, storage area where this bike would fit perfectly).
No distribution information is available. It is likely that it will be sold under a different name in the U.S. The U.S. price will be about $200 for the steel model. This is a good price for such a light bicycle, but the Taiwanese version of the Brompton T-3 or L-3 at $250 is certainly a better deal if you can get it. TOP
---
http://www.handybike.com/uk/index_ie.html
This is not what this bike was originally supposed to look like (had 26" wheels) but maybe the name was sold or something.
| | |
| --- | --- |
| Weight: | 7.99 kg (frames and parts completely from aluminium) |
| Power: | Single speed with 52/7 (52/9) gear ratio, max. speed 25 km/h. |
| Wheelset: | ZZYZX aluminium wheels Standard tires and tubes 6x1¼ up to 6,3 bar (85psi) |
| Brakes: | Aluminium caliper brakes |
---
Microbike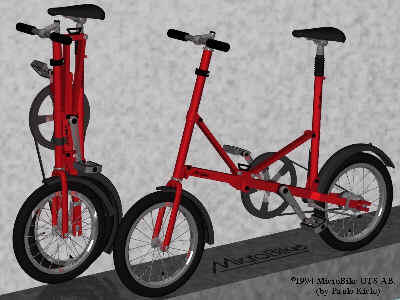 The data below is from an old e-mail I found on the net. I have seen no information on the Swedish Microbike dated later than 1994. But at least I found a good picture of it. It is not being manufactured at this time, but if you want one call the number below and you may be able to get one. When I called them, they said that it might be possible to get one from some pieces they had laying around. They are looking for a manufacturer to start building them again.
18 pounds, anodized aluminum. Small (10"?) wheels. Somewhat similar to the DaHon small-wheel folders, but considerably lighter and much more compact when folded. It could easily stand (when folded) between your legs or beside you on a bus. With the rear mudguard retracted, it rolls on its wheels even when folded
Folds and unfolds in 5 seconds into approximately 10" x 10" x 48" (eyeball estimate from what I saw; the brochure doesn't have the exact size and I forgot to ask). The frame is trapezoidal; the square-section top tube and "bottom tube" fold "scissor-style" near their midpoints. The folding joints are protected by rubber bellows.
2-speed automatic gearing, activated by back-pedaling. The brochure says "the normal low gear ratio allows the MicroBike to be pedalled comfortably at 10-15 mph. The second gear increases the ratio by 36%.". Kevlar drive belt -- no oil or grease.
optional rear rack takes standard-size bike accessories, is easily removable, yet does not impair folding action if left in place
optional carry bag, wheel reflectors, front briefcase hook, front shopping basket
price: $350. Available in the SF Bay Area through Rodegard Associates, 510-652-4449, fax: 510-652-4761. TOP
---
Cresswell Fold-It and Micro bike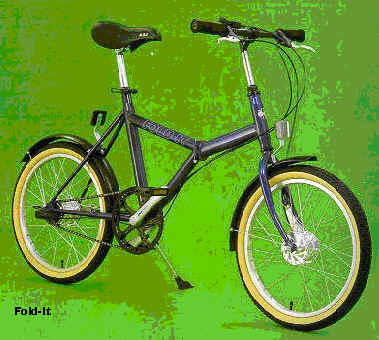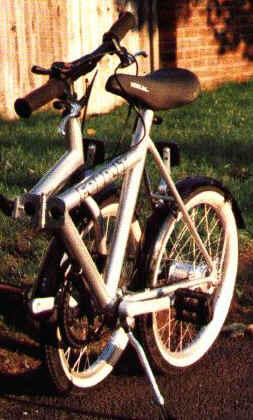 Cresswell manufactures a wide variety of single and tandem folding bicycles.
From the Birmingham Post, February 1996

A Birmingham firm has beaten off the big boys of the bicycle industry to scoop a top award in its first appearance at a national show. Cresswell Engineering received the Gold Star Award for the 'Fold-It' bike at the National Cycle Show at the National Exhibition Centre. The 20-inch wheel model saw the company beat off stiff competition from giants such as Raleigh and Dawes to win the best new adult cycle category at the two-day exhibition, which finished on Tuesday."
You can obtain a UK price list which includes prices for the Fold-It and the Micro Bike from: http://www.netcentral.co.uk/~nrose/creswell.html. More information is at: http://sun1.bham.ac.uk/c.j.sparke/bubug/cress.htm. Note that the Micro Bike from Cresswell is not the same as the Microbike above.
CRESSWELL CYCLES, BIRMINGHAM, ENGLAND, UK Tel: 0121 772 2512 Fax: 0121 773 9548 (from abroad +44 121...) TOP
---
Main features
Simplicity - just 3 tubes & Joints Belt drive - No oily chain Single side wheel mounting (or Monoforks as now often called) - makes tyre changing easy. Light weight - 10kg (22lbs) or lighter in future versions Hub brakes - Good stopping in wet & lifetime of wear (from moped). Aluminium frame - Rust proof Folding time 7 secs or less (4.5 achievable). 189 Pounds in the UK (about $350).The New Strida 2, will be available late summer 1996 from Roland Plastics Ltd.
Roland Plastics Ltd. High St., Wickham Market, Woodbridge, Suffolk, IP13 0QZ UK TEL: +(0)1728 747777 FAX: +(0)1728 748222 http://mediaport.org/~strida/ TOP
---
Bernds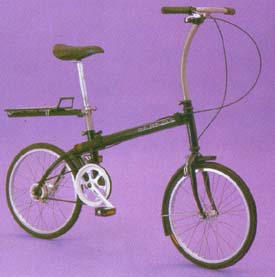 Rims:Alloy 20"
Frame: cruciform Hi-Ten Steel
Tires: 20"x1.125"
Weight: 26 pounds
Rear suspension
Drive: Belt Drive, Shimano 7-speed hub or Shimano 4-speed hub
Folding time: 25 seconds (front wheel must be removed, and rear released)
Price: 1700 DM (Germany
No contact information available. TOP
---
#25 Yung An 2nd Rd, Lu Kang Town, CHANGHUA HSIEN Telephone: 04 7774086 Fax: 04 7785880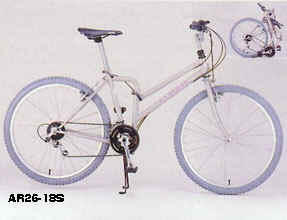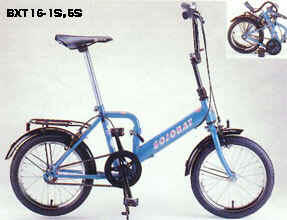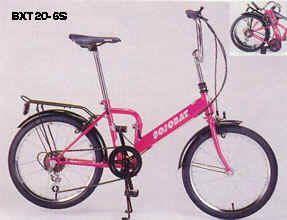 | | | | |
| --- | --- | --- | --- |
| Model | AR26-18S | BXT20-6S | BXT16-1S, 5S |
| Color | White | Red Blue | . |
| Frame Material/Size | Cro-Mo/ 26" | Hi Ten Steel/26" | Hi Ten Steel/16" |
| Gearing | Shimano Ty-22 18-SP | 6 Speed Shimano TY-20 | 1 Speed or 5 Speed |
| Brakes | Alloy Cantilever | Sidepull Caliper | Sidepull Caliper |
| Tire Size | 16"x1.375" | 16"x1.75" | 16"x1.75" |
| Rims | Alloy 26"x1.75"x36H | Steel 20"x1.75"x36H | Steel 16" x1.75"x28H |
| Hubs | 14Gx36 Alloy | 14Gx36H Steel. | 14Gx28H Steel |
| Fenders | No | Yes | Yes |
| Rear Rack | No | Yes | Yes |
| Folded Size (cm) | 94x32x83 | 70x30x75.5 | 60x30x66 |
| Weight (kg) | 11.8 | 14 | 13 |
---
PRETTY WHEEL IND CO LTD  #170-7 Chung Cheng Rd, Taya Hsiang, Taichung Hsien: PO Box: 540 Fengyuan 420 Phone: 04 5683312 Fax: 04 5683031 TOP
| | | |
| --- | --- | --- |
| Model | PW-16 Folding 1 | PW-26 Arch 2 |
| Frame Material/Size | Hi-Ten/ 16" | Hi Ten/26" |
| Gearing | Chainwheel S-101 Steel (40T).Freewheel TYF-1160 (16T) | 18 Speed FD-TY22, RD TY22=GS R/L SL-TY22 1 8-S Chainwheel CS4-640F (48,38,28) Freewheel Shimano HG-226S |
| Shifters | . | TY-22 18 Speed |
| Crankset | F/81 OS & R/Ping HO 70# R/L 283R | . |
| Brakes | . | FIR 870S & R/L 367R |
| Tire Size | 16"x1.75" | 26"x1.95" |
| Rims | Steel 16"x1.75 | Alloy 2"6x1.5" |
| Hubs | Steel 14G x 20H | 14Gx36H Steel. |
| Spokes | 14 guage UCR | 14 gauge UCR |
| Fenders | Steel | None |
| Pedals | VP-112 | NW-99B |
| Saddle | AB-015 Black | FM9015 Black |
| Rear Rack | No | Yes |
| Folded Size (cm) | 94x32x83 | 70x30x75.5 |
| Weight (kg) | 11.8 | 14 |
---
| | | | |
| --- | --- | --- | --- |
| Single Models | FMB | FMB3CB | FMB7CB |
| Wheels | 20" | 20" | 20" |
| Gearing | 1 Speed | 3 Speed Internal | 7 Speed Internal |
| Brake | Rear Coaster | Rear Coaster | Rear Coaster |
| Rear Rack | Yes | Yes | Yes |
| | | | |
| --- | --- | --- | --- |
| Tandem Models | FTB | FTB3CB | FTB7CB |
| Wheels | 20" | 20" | 20" |
| Gearing | 1 Speed | 3 Speed Internal | 7 Speed Internal |
| Brake | Rear Coaster, F Caliper | Rear Coaster, F Caliper | Rear Coaster, F Caliper |
| Rear Rack | No | No | No |
Workman Trading Corp., 94-15 100th St., Ozone Park, NY, USA 11416-1798 Tel: (718) 322-2000 FAX (718) 529-4803 TOP
---
Manufactures folding electric bicycles. From their web page: The 16" wheel folding Citibike is a single speed cycle ideally suited for local transportation, visits to the store and can be fitted with front and rear baskets for all your shopping needs. The 26" wheel folding Stepthrough is for the more serious cyclist and is fitted with 6 speed gears for hill climbing and fast power assisted cycling. The 16" wheel folding Trike is for those who want more stability or load carrying capacity. Fitted with 3 speed gears the Trike can climb most hills unaided. A wide range of accessories are available, including a briefcase holder, child seat and specially designed baskets for the whole range of cycles. The Citibike Trailer can be fitted to all models and is made from light weigh glass fibre and is fitted with matching alloy wheels. http://www.citibike.co.uk/ TOP
---
Etc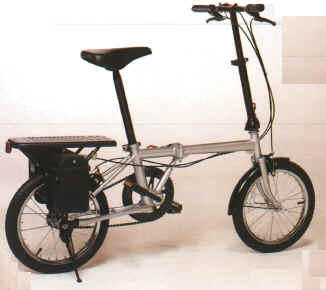 16" Electric Folding Bicycles.1486 East Valley Road, Santa Barbara, CA 93108 (805) 969-1767 http://www.etcbikes.com email: wed@montecitori.com. Web site has no content as of 10/11/96. TOP
---
http://www.saddlesafari.co.uk/special.htm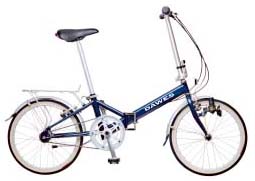 ---
Neng Hao Ind Co Ltd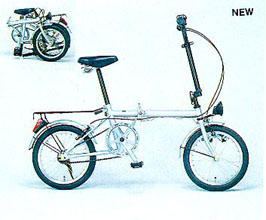 Contact: N T SHIH Address: #46 SAN I LN, I-HSING TSUN, SHIO-SHUE HSIANG, CHANGHUA HSIEN Telephone: 04 7636320 Fax: 04 7631071 Banker: BANK OF TAIWAN Employees: 30 Capital: $200,000 Established 1986
Model NH-16-1 Folding Bicycle Size: 16" Pat. No. 836383, Taiwan. Unfolded size: Length: 1310mm, Height: 965mm Weight: 525mm Folded Size: 100% . Length: 700mm . Height: 600mm Width: 315mm Weight: 12.5kg. Tire: 16" x 1.75 black. Rim: alloy 7A 28H. Chainset: 48T x 6" alloy. Special feature: Handle bar and stem rotatable through 360° 100% packing: 1 x 20' = 250Sets. 1 x 40' = 520Sets. TOP
---
For situations where it is not necessary to be able to quickly fold and store the bicycle, disassembleable bicycles can be a better option than folding bikes. Airplane transport and train or bus rides following a tour are some examples. Typically these bikes take twenty to thirty minutes to put together or break apart. The Moulton is the most well known disassembleable bicycle but there are others as well. TOP
---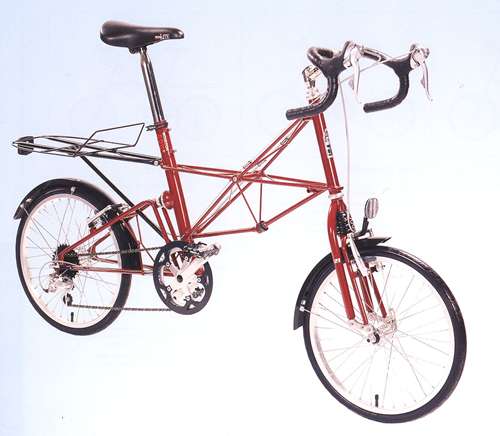 APB Model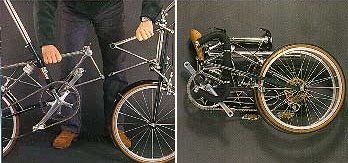 How it Separates

Note: I use the name Moulton loosely here. The bicycles produced under license go by names other than Moulton.
This is a 20" wheeled bicycle whose frame splits apart. Several cables must also be disconnected. It takes about 15-30 minutes to disassemble and pack a Moulton. The Moulton frame is full suspension. It is a highly engineered product that solves many of the problems of small wheeled bicycles with its sophisticated suspension system.
From an e-mail from Doug Milliken:
"The APB range (All Purpose Bike) is made under license by Pashley of Stratford on Avon, England (home of The Bard). This includes the Land Rover-branded "top-end" model. All these bikes use the BMX size 20" wheel/tire and there are now some very nice high pressure (easy rolling) tires available in this size (as well as the wide variety of medium pressure knobby & slick BMX tires). Note that without the suspension, these small tires at 90-100 psi would be very harsh riding.
The AM range is considerably more expensive and these are hand brazed in fine materials like Reynolds 531 or custom-drawn aerospace stainless steel. These all use a special 17"x1-1/4" tire made specially by Wolber (part of Michelin) and designed by Moulton with a special low rolling resistance carcass and tread design -- I regularly use these tires at 120 psi on the flat ground here in Buffalo, which makes for a very easy rolling, efficient ride. I find that I get very good service from these tires, but as with any product, there are few owners (out of many) that object to the tire for one reason or another, and there is no easy alternative.
Personally, I think that the Gaerlan gt20 is a better product at considerably lower cost. But I am sure that Dr. Moulton would disagree with me.
---
Comotion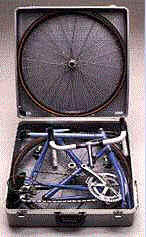 Co-Motion makes road, off-road, and tandem bicycles with the S&S torque coupling system. These are disassembleable, not folding. These are really just regular high end bikes, but with the S&S torque couplers installed. They have a complete line of carrying bags and hard cases for these. web: http://www.teleport.com/~comotion/ e-mail: comotion@teleport.com. TOP
---
S&S Torque Couplers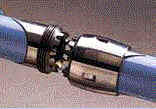 Retrofit solution for disassembleable bicycles (quoted):
"For *touring* foldup bikes, people can retrofit their existing full-size steel or titanium bikes with S&S torque couplers (or buy new frames made with the torque couplers). These are easily competitive with the Bike Fridays for (a) time to completely pack the bike into a traveling case and unpack and set it up, and (b) size when completely collapsed. Cost can also be competitive with Bike Friday, since in all other respects, these are just ordinary full-sized bikes. True, these are not intended for frequent dis/assembly, but you get to use them on conventional full-size frames (steel and titanium currently, with aluminum-compatible supposedly in the works). When disassembled, a bike with normal 700C wheels fits into a case 26x26x10, which easily goes as ordinary baggage on a airline or train."
You can contact S&S Machine at: 800-763-5564, FAX: 916/771-0397. They can send you a current list of frame builders/manufacturers using their torque couplers.
Here is an e-mail I got from them on 5/3/96:
Thank you for including the S and S Machine Bicycle Torque Coupling (BTC) in the Folding Bike FAQ. We now have a web page which includes a list of 30 builders that use our system to produce road , mountain and tandem bikes that travel as regular airline luggage and links to those builders that have web sites. Co-Motion Cycles and Salsa Cycles stock bicycles built with the BTC ready for immediate delivery. I am not sure how familiar you are with our system but I would like to invite you to visit our site and review some of the comments and magazine articles as well as the builder list and profiles. Since S and S Machine doesn't actually build or retrofit bikes with the BTCs, I can't give you pricing but I have estimated prices and included them in my site. I also encourage you to visit Co-Motion's web site since they have a nice review of their travel bike line. If can be of any assistance in gathering or compiling information or in answering any questions, please don't hesitate to contact me by phone or e-mail. My web site address is: http://www.sandsmachine.com. TOP
---
Many folding bicycles including Montague and Neobike use these pedals. These are the ones that I modified to use Power Grips. They were also on the RedloF I received. The pedals on the RedloF had an improved design with a latch to prevent the pedal from moving up and down while riding (Wish the Montague had the same, should have swapped them before I sold the Redlof!)

Model VP-112 Folding Ball-burnished, aluminum body. Nylon platform. Self-balancing mechanism. Folded size: 50 x 68mm. Weight: 435g/pr.

#816 Chang Sheng Rd, Waipu Hsiang, Taichung Hsien, Taiwan. Phone: 04 6835001 Fax: 04 6835838 TOP
---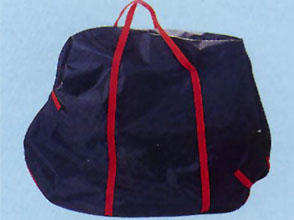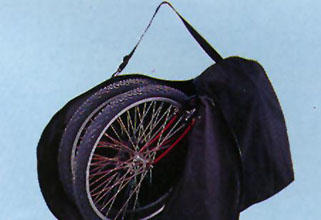 Model CYB-7015-1 Carrying Bag Fits folding bike. Size: 39"x4"x29".
Model CYB-7015-7 Carrying Bag Fits 26" folding bike. Size: 46" x 10" x 33".
#253 Chang Sheng Rd, Waipu Hsiang, Taichung Hsien, Taiwan. Phone: 04 6831571 or 04 6831573 Fax: 04 6831570
---
For a small, one-speed bike to ride short distances to bus stops, train stations, and stores, the Tsan Ching Ltd. Gekko is hard to beat. It's not a touring bike, it's not for long commutes and it's not for hilly areas. There is definitely a niche for a bike like this, provided it is well priced ($150 or so).
For a cheap, medium size (when folded), compact folder for medium commutes get a Dahon Boardwalk.
For a more polished compact folder for medium commutes get a Birdy or Brompton, mid-range Dahon, or the entry level bike friday. The Brompton folds better and easier, but due to limited gearing options may not be suitable for commutes with steep hills. The Birdy is not easily available in the U.S. Dahon has greatly improved the quality of their products and they are priced competitively. I love the Brompton, but the price is steep.
For a mid-priced full size folder for commuting get a Montague Crosstown hybrid. Also look for the new DaHon full size folders which have been upscaled.
For mountain biking get a Slingshot or a Montague Urban and change the wheels and tires.
For extensive touring as well as commuting, get a bike friday New World Tourist, a Montague Urban, or the best choice, the. Gaerlan GT20. The bike friday is a more manageable size when disassembled, but the Urban is more comfortable. The GT20 is a premium, hand-built product and the owner of the company actually uses the product for long tours.
For touring only, where quick folding is not a necessity, retrofit your existing touring bike with S&S Torque couplers (how about Bruce Gordon doing a bike with S&S Torque couplers?). The Moulton is nice, but it's mighty expensive (if I'm ever in the U.K., I know I won't be able to resist picking up a Land Rover Moulton). Also check out the new Gaerlan travel bike. While more expensive than the Land Rover Moulton APB, at least it is available in the U.S. For overseas travel where you need to take the bicycle with you into the passenger compartment of crowded trains, the Brompton, bike friday, or one of the DaHon 20" models are the best options. The Gaerlan gt20 is probably the best option.
I selected the Montague Urban because as a full size bike, it uses all standard components, it will suffer less from rim heating problems when riding heavily loaded on long descents, it handles like a standard bicycle, it has slightly better components (i.e. a sealed bottom bracket but remember that you can upgrade the components on the bike friday) plus it is a bit less expensive than the bike friday (however with a hard case, the cost is identical with the 5% Montague discount on combo purchases). I don't like the custom accessories on the bike friday like the rear rack, front rack, and fenders (about twice the street price of similar equipment for standard bicycles). I was willing to put up with the larger folded size. I am getting better at folding it, but it still takes me several minutes to get it folded and into the bag, unlike my old DaHon which I can fold and bag in about one minute.
For commuting on very crowded trains, the Montague would not be wonderful as it is quite big when folded, a Brompton, bike friday, or DaHon would be better (however on a system like BART, the Montague would not be bad as there are seats where you could put the bike on the floor in front of you). For commuting on lightly used trains (such as CalTrain), the Montague would be fine. TOP
---